Climate: Women can be positive change agents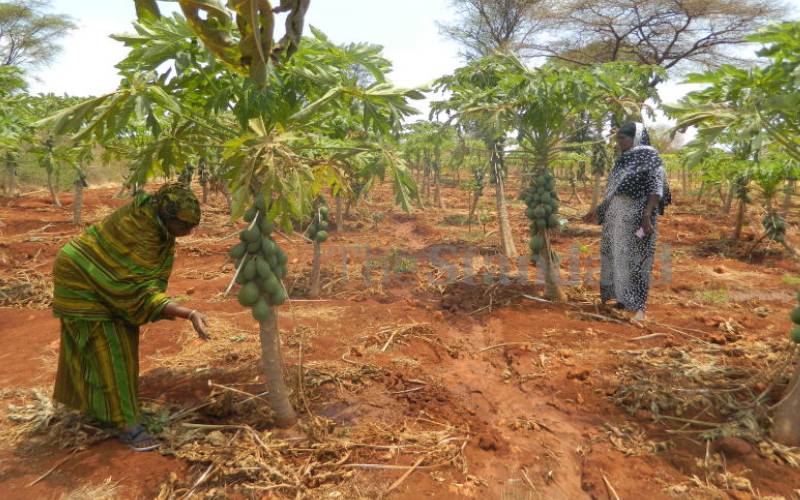 The rainy season is here, and the likelihood of death or destruction in areas prone to flooding is not far fetched. Some in rural areas suffer because of improper use of land, based on choices made for the here and now.
While women are disproportionately affected by climate change's agents of destruction and distraction, they must not remain victims, but be dependable for positive change in the manner the crisis is addressed.
But they can only do this if they have a say in how the land they have access to is used. This, too, is only possible if they own the land.
A 2020 training by Federation of Women Lawyers, Kenya titled "Women's Land and Property Rights in Kenya" highlighted the following: That despite the fact that the ratio of women to men is 1:1, only 5 per cent of land title deeds in Kenya is held by women, "jointly with men"; that "only 1 per cent of land titles are held by women alone"; yet "about 32 per cent of households are headed by women".
Clearly, even where women head households, they do not have express rights to land they occupy.
Today, trends in investments in land are changing, with more women, especially in urban areas, not waiting to be married to co-own such. But on the flipside, a lot of rural women occupy land in whose use they have no say. Yes, they can till land or cut trees for use, but major decisions such as what portions can be leased for extraction of concrete, murram or "minerals" remain with the men.
This is why stories of widows disinherited, or families displaced after the head of the home sells land without consulting anyone, are not really news. A court in Elgeyo Marakwet recently granted a woman divorce from her "lazy" husband, who claimed he had a calling from God not to work (but eat). While the divorce was granted on grounds of cruelty, it was baffling how the man afforded to sell family land without consultiing his hardworking and providing wife.
While it is not true that men are not to blame for inappropriate land use, the question of who decides what land is used for needs to be met with actions that influence economic empowerment for all. This means gender equality, as per the Sustainable Development Goal 5. This also needs increasing the number of women in leadership or decision making positions.
In the ongoing 16 Days of activism against Gender-Based Violence, we must look at the unseen violence that is letting women occupy land they have no say in. Political parties must give adequate opportunity for women to occupy space in national and local leadership, so they can champion the issues that affect this gender. We must not allow hooliganism to instill fear in women vieing for political seats.
A 2011 FAO study shows countries with higher female parliamentary representation "are more likely to set aside protected land areas". This is one way women will address climate change.
- Lynet is Quality Assurance Editor at Standard Group.
Plans to revamp pyrethrum farming
Production of pyrethrum in the country has declined from a high of 18,000 tons in 1992 to the current national production of about 500 tons per year.