Time to take firm action against those behind 'witch' burning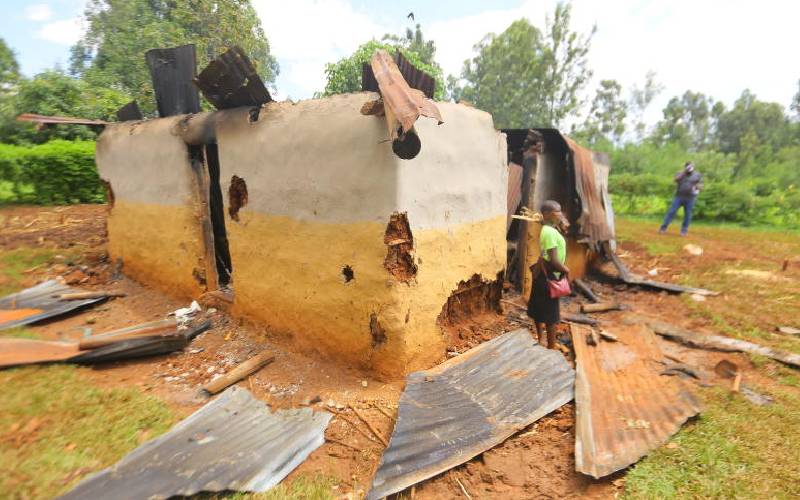 Among the Abagusii, to refer to a woman as "Omong'ina" is the highest form of respect. Yet, for the late Omong'ina Rael Sigara Onkware from Marani in Kisii County, the title could not stop the indignity she suffered on October 17.
She was labelled a witch, pulled from her house in the early morning, hacked to death and her body burned. Neither the community that revered her as Omong'ina, nor the law enforcement agencies could stop her attackers in their sinister mission.
The labelling of older women as witches, and the related violence and abuse, is unfortunately commonplace in Kenya. An internet search reveals several similar stories to that of Omong'ina Rael in Gusiiland. Indeed, one report by Al Jazeera refers to Kisii as Kenya's sorcery belt.
Statistics indicate that about six people face violence every month on suspicion of being witches in Gusiiland. In some instances, older men are also lynched on accusations of practising witchcraft.
Dwindling resources
A common thread in the killings besides old age is the struggle for meagre or dwindling resources, and at times, pure greed at the family or community level. Examples abound of very close family members (including women) colluding to instigate the violence that takes many forms including harassing, intimidating, maiming, and ultimately, lynching of older women, usually poor widows.
The labelling of older persons as witches is done systematically and sets the stage for the aggressors to not only get rid of the "witches" but also ostracise their family members who can, after the lynchings, no longer stay in the communities. When the families are pushed out, the aggressors move in and take charge of their property, especially the land.
In one media report, Mary Nyaboke spoke of the ridicule, stigma and irreversible social and economic exclusion that she and her husband suffered following the lynching of her mother-in-law on accusations of witchcraft.
Red eyes
It is unfortunate that these killings of older women continue unabated. Ageing is a natural process of the human life cycle from birth until death. However, the response to ageing discriminates excludes and violates the health, dignity and wellbeing of older persons that at times leads to death.
Common manifestations of ageing such as having red eyes, wrinkled skin, being indisposed or having a mental or physical disability is now caused for the victimisation and killing of older people. All these acts amount to ageism which, together with negative stereotyping of older people, can greatly in?uence the response of society and law enforcement agencies to elder abuse.
What is of great concern is that, in all the cases reported of witch labelling and burning, the communities have either joined in the violence surrounding the killings, or stood by as helpless, or even cheering spectators.
The fact that the perpetrators of these heinous crimes continue to walk free, and perhaps repeat the offences is unacceptable. The failure to prosecute them for what are clearly criminal acts only serves to embolden other would-be perpetrators, who continue with impunity to perform these sinister acts of abusing and killing older persons.
In a country with a robust criminal justice system grounded on elaborate law enforcement and administrative system, the inaction of the social and state structures that owe a duty of care to these older persons must also be called out.
The lynching of older women and in some cases older men, in Kisii County and other parts of the country including Kilifi on allegations of witchcraft, is an abominable, discriminatory, unjust, dehumanising, and deeply oppressive, trend.
Yet, safeguarding the rights of older persons now is a form of security for younger persons as it entrenches sound legal and administrative practices that will protect them when they cross the Rubicon into old age. The perpetrators and their cheerleaders must do well to remember that, as they age, they too risk suffering the same fate as their victims. Unless they stop it now!
At HelpAge International, we stand up for the rights of older people with the goal of creating a fairer world for them so that they can live safe, healthy and dignified lives free from violence, abuse, and neglect at the same standard as all other age groups.
Harmful practices
We, therefore, call on the government to ratify the Protocol to the African Charter on Human and Peoples' Rights on the Rights of Older Persons in Africa which highlights the need to protect older persons from harmful traditional practices including witchcraft allegations, and abuses related to property and inheritance.
By ratifying this protocol urgently, the government will be affirming its commitment to uphold at the highest standard, the rights of older persons and facilitate their access to justice as necessary. In the meantime, the laws and policies protecting older people must be applied without reservation.
Tackle teen pregnancies
In the past 10 months, thousands more girls aged between 10 and 14 have been impregnated, Nairobi leading the other counties with 2,379 cases.