Plan to set up hate speech courts offers new legal food for thought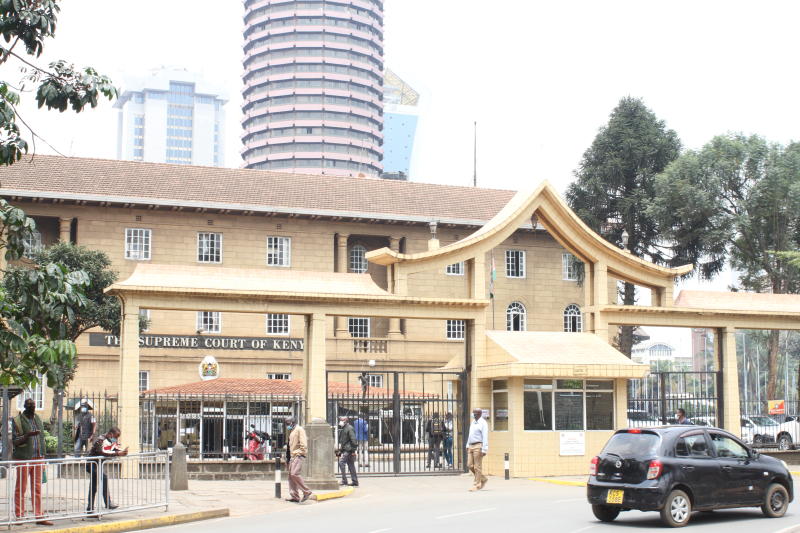 Recently, during a press briefing at the end of a multi-agency meeting on elections preparedness, Chief Justice Lady Justice Martha Koome was quoted by the media saying the Judiciary will set up specialised courts to deal with hate speech during this election period.
This has legal and policy implications. Hate speech is an offence defined under Section 13 of the National Cohesion and Integration Act No 12 of 2008 whose penalty is a maximum fine of Sh1 million or imprisonment of three years. Its elements include stirring up ethnic hatred by use of speech, conduct, publication, material distribution, drama, films and programmes that are threatening, abusive or insulting by a natural or corporate person.
There are collateral implications of this law to the media industry in that a journalist or media enterprise may fall foul of it by virtue of Section 62 of the NCIC Act, which provides that any newspaper, radio station or media enterprise that publishes third party utterances that were originally intended to incite feelings of contempt, hatred, hostility, violence or discrimination against any person, group or community on the basis of ethnicity or race, commits an offence and shall be liable on conviction to a fine not exceeding Sh1 million, or to imprisonment for a term not exceeding five years, or both. There seems to be no defense to this offence of subsequent third party publication since it operates as self-censorship or free speech limitation on account of public interest.
It seems that the mandate of setting up specialised courts is strictly a function of the legislature. Besides, the offence of hate-speech can still be effectively dealt with by the currently existing Magistrates Courts save for adequate funding in terms of resources, capacity building and personnel.
Article 162 (4) of the Constitution defines the system of courts in Kenya as comprising the subordinate courts, that's the magistracy, tribunals, kadhis and court martial, which are established under Article 169, or any other specialised courts established by Parliament in accordance with that Article.
Further, Article 169 (1)d clarifies that subordinate courts may include any other court or local tribunal as may be established by an Act of Parliament, other than the courts of equal status to the High Court established as required by Article 162 (2).
Article 169 (2) further directs that Parliament shall enact legislation conferring jurisdiction, functions and powers on the courts established under clause (1). With elections a mere nine months away, these specialised courts may not be set up in time to serve their intended purpose.
This is because the process of law making can be protracted, long-winded and divisive due to the provisions of Article 10(1) on national values and principles of governance that obligates Parliament to conduct public participation before legislating. This was the procedure and reasoning behind the enactment of the Small Claims Court Act 2016, which is established the Small Claims Courts to handle civil claims of below Sh1 million in a fast-track and simple procedure.
Besides, Section 5 of the Criminal Procedure Code CAP 75 already provides for the jurisdiction of courts so far as criminal offences are concerned. It provides that an offence under any law other than the Penal Code (Cap 63) shall, when a court is mentioned in that behalf in that law, be tried by that court. But when no court is so mentioned in that law, it may, subject to this code, be tried by the High Court, or by a subordinate court.
The NCIC Act does not mention any court before which hate speech offenses may be prosecuted and technically, therefore, that offence could legally be adjudicated either before the Magistrates Courts or High Court. Now for practicability and by dint of territorial jurisdiction, plus the wide spread of Magistrates Courts across the country, it has been the accepted practice that criminal offences be originally tried first before the Magistrates Courts. Additionally, Article 48 of the Constitution provides for access to justice which would be unfairly restricted were such offences like hate speech be first tried at the High Court. Previous politicians charged with hate speech were all arraigned before Magistrates Courts. Former Laikipia North MP Mathew Lempurkel was charged with hate speech at the Milimani Magistrates Courts; Tiaty MP William Kamket Tiaty was arraigned at the Nakuru Magistrates Courts, and Suna East MP Junet Mohammed at the Homa Bay Magistrates Courts. Departing from this practice would deprive Kenyans of one layer of appeal, which is the High Court.
It seems that neither the Constitution nor legislation envisages a scenario where courts are established outside the legislative framework. Similarly, the Chief Justice's powers relating to court systems have traditionally been restricted and defined in Section 10 of the Judicature Act Cap 8, which only concerns the powers to make rules of court for regulating the practice and procedure of the High Court and, subject to any other written law, that of subordinate courts, and the power to make rules under that section shall include the power to prescribe fees and scales of remuneration.
There isn't therefore any provision enabling the leadership of the Judiciary to establish specialised courts.
However, it is highly likely that what the Chief Justice envisaged is the gazettement of special magistrates to deal exclusively with hate speech in the similar manner the Chief Justice may gazette magistrates to handle election petitions. Gazettement of special magistrates to handle hate speech can be effectively done if complemented with increased budgetary allocation. However, the implication would be that such special magistrates would be taken off their normal cause-lists to exclusively handle hate-speech cases on a day to day basis. This could result in incremental backlog as other offences would have to be adjourned or delayed. But that would be a small and worthy sacrifice to make if ultimately peace will prevail.