Ignoring judge's wig, what will Justice Martha Koome's style be?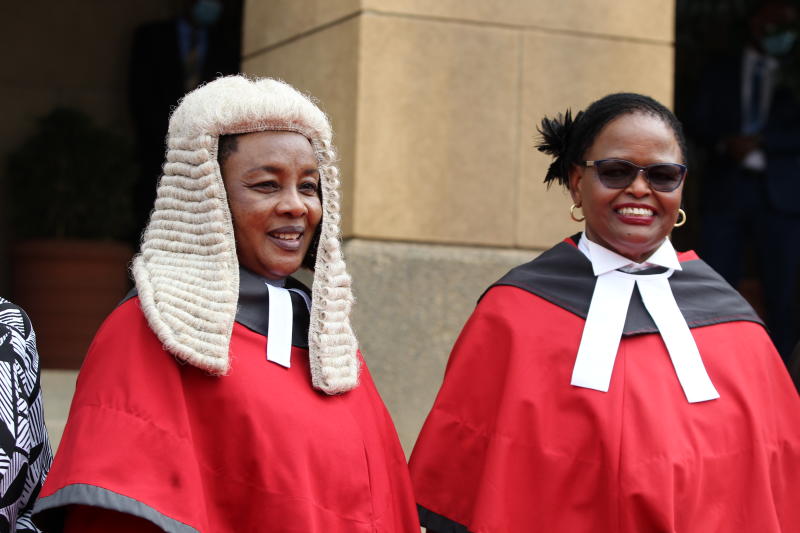 Groomed and built around the Judiciary, where judges and lawyers are expected to wear gowns and the colonial-judges' wig, one would have expected her portrait to be traditional and conservative, and with many protocols.
However, she is different, and maybe this will be her style as she serves in the Judiciary.
Her predecessor, Justice David Maraga, wore the wig, and yesterday her deputy Philomena Mwilu also donned it.
Yesterday Chief Justice Martha Koome just had her hair clipped in a blue ribbon, and for addresses; she was the master of ceremony despite being the boss and the person of interest.
Bosses speak last. They are invited to speak when everyone else has spoken.
The programme was scheduled such that only those in the Judiciary were supposed to address the attendees. The Registrar, Ann Amadi, went first, then the Vice Chair of the Judicial Service Commission followed and Justice Mwilu was to invite the Chief Justice to address the attendees.
But Koome broke the protocol.
With a motherly smile, she first invited Effie Owuor, Kenya's first female magistrate and judge of the High Court, who, with nostalgia, narrated how the Chief Justice at her time let her use his toilet, as there was no such a room for women, and how she powdered her face at Hilton as the Judiciary did not have a room for women to dress and groom.
One would have expected that Duncan Okello, the day's MC, would have soon taken up the task from the new CJ, but she continued Emceeing, calling, among others, the former Chief Justice David Maraga, Speaker of the Senate Ken Lusaka, the Attorney General Kihara Kariuki before she read her second speech.
Assertive tone
Justice Koome's tone in the speech was both assertive and reconciliatory. Her priority, it seems, is to build bridges with the Executive and Parliament and at the same time end the perennial narrative of backlogs.
"My vision of the Judiciary is one that will constructively engage with the other arms of government for the mutual benefit of Kenyans. I see a Judiciary which will be a leader in accountability and integrity."
In foresight of what she wants to achieve, she said cases should be out of the Judiciary system within three years. "When everybody becomes an agent and champion for justice, I believe this country will start looking for our own indigenous solutions that lead to reconciliation and peace. Moreover, many will avoid violence, conflict and other pitfalls or black spots that lead to endless court cases," she said.
At the same time, her speech was assertive that each arm of government should stick to their lane even if they are relating. On Judiciary's independence, her tone was that she was ready to fight, with all her might, to defend it.
Her two predecessors had it rough with the other arms of government. Dr Willy Mutunga even termed the government a 'mafia style' ran entity. At the same time, Maraga left with his numerous unanswered calls by, among other people, President Uhuru Kenyatta. "For how can an institution under the control of another be impartial or adjudicate fairly? For the scales of justice to function properly, there can be no undue influence, not even a small stone or fingertip can be permitted to tip the scales," Koome added.
She is also expected to be tough on corruption. By referring to her institution as 'parking lot of corruption cases' she demonstrated her awareness of endemic graft, and that she was ready to nip it in the bud.
Expect shakeups, as she said that even with the institution having systems, including the Office of Judiciary Ombudsman, it has not succeeded to effectively deal with graft.