We know what the Creator demands, let's do it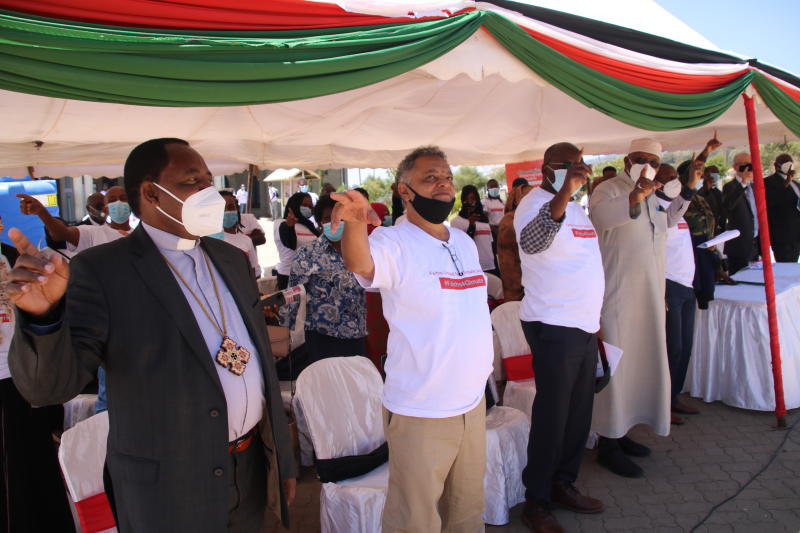 I have been privileged to attend a meeting in which religious leaders from diverse faiths united to make one call; that it is time humans did the work their creator assigned them… to be stewards of the environment.
The discussions therein, and the fact that in the end it looked like all were reading from the same script (or holy book), rang a bell. It was clear that we are nothing without the environment we live in.
In the beginning, God created the heavens and earth..." begins the Bible in Genesis 1. For five days, God then speaks, and there is light; day and night, there are plants and animals, there are stars, the moon, birds, creeping creatures. The skies, land and sea are filled with beauty.
"Then God said, "Let us make man in our image, after our likeness. And let them have dominion over the fish of the sea and over the birds of the heavens and over the livestock and over all the earth and over every creeping thing that creeps on the earth," the Bible says in Genesis 1:26.
That was day six.
Man was made a steward of God's creation. In Genesis 2:15 "The Lord God took the man and put him in the Garden of Eden to work it and keep it". He was then commanded not to pollute the land (with blood) in Numbers 35:33.
The Islamic faith, according to scholars, also recognizes that natural resources such as water, mountains, forests and even fire do not only belong to humans, but to all living things, hence the need for responsible use and conservation.
The Quran, in Surat Al A'raf, verse 85, says: "And do no mischief on the earth after it has been set in order: that will be best for you, if ye have Faith".
Another verse in the Quran warns against corruption and exploitation of what man has been made steward of. This includes the environment.
"And do good as Allah has been good to you. And do not seek to cause corruption in the earth. Allah does not love the corrupters," the Quran says in Surat Al Qasas 28:77.
Hinduism, just like Islam, encourages simplicity and responsible use of natural resources. A sense of emphasis on conservation and proper waste management is clear among the Buddhists as well. We can go on and on.
A quote from Dalai Lama makes this even simpler: "Whether they belong to more evolved species like humans or to simpler ones such as animals, all beings primarily seek peace, comfort, and security. Life is as dear to the mute animal as it is to any human being; even the simplest insect strives for protection from dangers that threaten its life. Just as each one of us wants to live and does not wish to die, so it is with all other creatures in the universe, though their power to effect this is a different matter."
In our communities, there are beliefs attached to several natural resources. Some people even attach curses to killing of certain creatures or felling some trees, the Mugumo (fig tree) among Kenya's Agikuyu being one such. The cultural and sometimes religious beliefs attached to such in the end save the ecosystem and prevent extinction of biodiversity.
In the olden days, indigenous communities did not destroy natural resources such as forests; but used them responsibly. They knew they would need the resources another day.
God sent man to have dominion over the environment. But being a human is fast becoming an embarrassment. We have sunk so low in our quest for wealth that we have forgotten nature's goodness. Wildlife and humans are forgotten as corporate bodies drill oil and gas, especially in Africa. There is pollution from coal powered plants and industries. Destruction of natural habitats for money making projects is accelerating biodiversity extinction. There is increase in actions that make it difficult for us to even breathe, but nations and their leaders are busy chasing deals; money.
In effect, we are made to wallow in the miasma of preventable natural disasters. When this happens, all are affected, albeit in different degrees depending on economic status and infrastructure available where individuals are. But even if an individual is at a safer place when disaster strikes, a friend, colleague or relative somewhere may not enjoy similar privileges.
It would be insensitive to blame everybody for the pain the poor nations and individuals suffer; but keeping quiet about the fact that the well to do countries and big corporate bodies are responsible but are not doing the necessary to disrupt the course of the climate crisis would be complacent of us.
Today, hell is on earth, with the global warming manifesting itself in ways no one can ignore, all courtesy of human action, and a lot of inaction.
But there is hope in the seemingly most unlikely places; our religious strength.
In spite of our diverse affiliations, we are united in the suffering when disasters strike. Our attitudes and collective actions can be useful in pushing climate action from the huge Green House Gas emitters, to increase adaptation and mitigation for the most vulnerable. The same powers that the religious leaders wield can help encourage locally led climate action so that everyone does something to save earth.
Religious groups have a duty to help save the planet, because if we mess everything and become extinct, earth would still survive. Humans cannot survive without the environment, at least for now.
Using the (religious) numerical strength to push for responsible action among big corporate bodies may also give better results than we have had until the last Committee of Parties (25) negotiations for climate action organised by the United Nations Framework Convention on Climate Change. Wikipedia puts the number of adherents to Christianity at approximately 2.5 billion of world's 7.8 billion population by 2020. It indicates that Islam had 1.9 billion, Hinduism 1.35 billion and Buddhism 535 million adherents at the same time.
Not every human is responsible for the drought in the Arid and Semi-Arid Lands of this world, the flooding in the islands and plains, the melting of mountain caps and the unpredictable rain patterns that have rendered farmers clueless and agriculture-dependent economies inefficient. But all must act.
As the Nobel Peace laureate Wangari Maathai said of the little hummingbird, every little effort to save the planet is key.
The environment we live in needs our kindness, respect, empathy and several other common human values. These are also the common messages in the places of worship. We must tell this message for environment too. Religious leaders must lead by example. This cannot wait.
Lynet Otieno is Quality Assurance Editor at Standard Group
Lynet is a Quality Assurance Editor at The Standard Group.