Kenyans yet to reap full benefits of 2010 law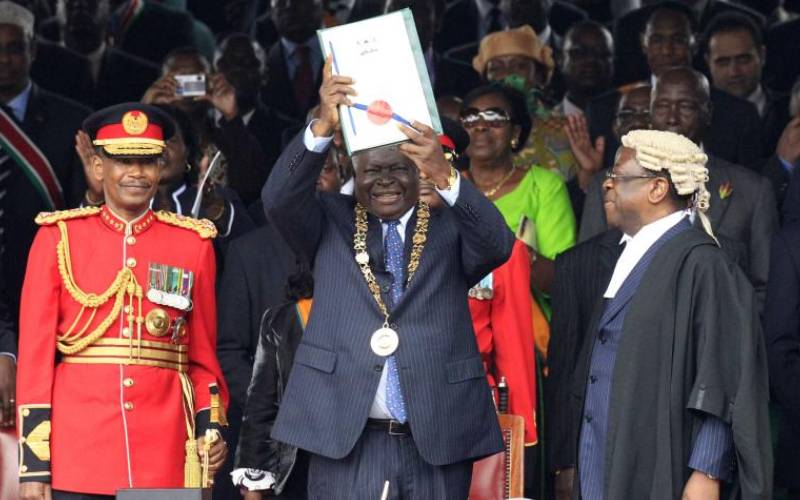 The day every article of the 2010 Constitution would be fully implemented, Kenya would be at the gate of the land of milk and honey. Today, 11 years since its promulgation, Kenyans are yet to benefit from fundamental articles on expectations from the State.
Article 43 for instance, gives a list of rights which if enacted Kenyans would be among the most satisfied people on the planet. According to the article, every person has the right to the highest attainable standard of health, adequate housing, education, free from hunger, clean water, safe sanitation facilities and social security.
These form the most basic of needs. Kenyans wish for a day when they would not be under duress to pay dearly seeking services from private facilities while still paying taxes.
If the government were to meet expectations of this article, public schools would be competing at the same level with private schools with an advantage of being cheaper. Majority of Kenyan children would get an equal chance to a prosperous future.
If the government were to meet these expectations, Kenyans would not think twice about seeking health services from public facilities as their taxes would have already been put into good use. Imagine if every Kenyan has access to clean water and adequate sanitation facilities. Unfortunately, Kenyans still die of hunger.
The government has made strides in offering social security to the most vulnerable including the elderly and people with disabilities but this has also has attracted vultures that have prevented the most deserving from enjoying it.
The rights in article 43 are the building blocks of a social democracy which can be defined as an ideology that humanises capitalism in the interest of social justice. A good example is in the Nordic countries such as Denmark and Finland that have invested heavily in free education and universal healthcare. Chapter Six on leadership and integrity is another most overlooked if not abused chapter. State officers are to behave in a manner that gives honour and dignity to their offices. In developed countries, state officers who demean their offices opt to resign.
Former New York Governor Andrew Cuomo quit recently following accusations of sexual harassment. In the UK, former Minister in the Department of International Development Michael Bates resigned for showing discourtesy after arriving a minute late for debate in the chamber. In Kenya, an accusation becomes a platform for campaigning for an even higher office. No shame at all.
The most notable development from the 2010 Constitution is the devolved system of governance. Unfortunately, despite the achievements, some vices that Kenyans were trying to run away from and rife in centralised government have been devolved; corruption, nepotism and abuse of public resources and office.
One governor is said to have invested over Sh9 million for his office furniture alone. Another one bought an official residence for Sh150 million. The real benefits of the 2010 Constitution will be reaped when integrity is ingrained in our culture, when political office stops being used as a platform for advancing selfish desires.
-Anchor at Radio Maisha