Hasty varsity closures too painful for students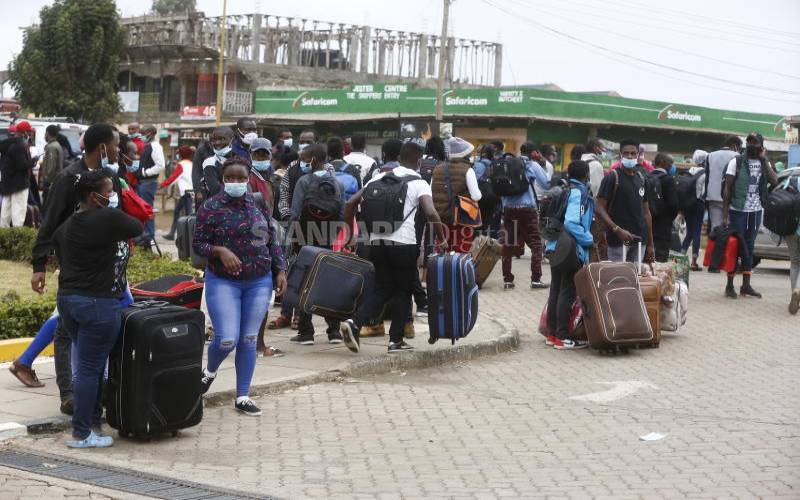 The recent presidential directive, which locked down the 'sick' counties of Nairobi, Kiambu, Kajiado, Nakuru and Machakos, caught many people by surprise despite the general expectation that Covid-19 protocols would be tightened after the third wave of the virus hit the country hard.
Today, we are writing this article from Nakuru, one of the five affected counties, and where the air is thick with an increasing sense of foreboding. For those used to being constantly on the move, the feeling of being incarcerated in a pariah county re-enacts the mandatory seclusion ancient biblical lepers were subjected to and brings to mind the nations designated by George W Bush as the 'Axis of Evil' soon after the 9/11 attacks.
Residents here have barely recovered from the devastating socio-economic effects of last year's lockdown which saw many businesses, especially those that depended on Nairobi for supplies, completely ruined. The memories of unharvested perishables rotting in the farms as weary farmers scanned the horizon for never-arriving buyers are still fresh in the minds of residents. As expected, stress-related mental illnesses escalated amid much hopelessness and despair.
The government's lockdown decision - for all its noble and necessary intentions - was in our opinion too hasty. Even the subsequent clarification that the counties in the unfortunate 'Axis of Malady' may freely trade among themselves, as it were, and the extension of the deadline for trapped persons to leave the zoned counties, came after the damage had already been done: Extortionate matatu crews had already fleeced panicky commuters trying to beat curfews and impossible deadlines. At some point, travellers were paying Sh3,000 from Nakuru to Nairobi.
Global reasons
Whenever universities are suddenly shut because of local reasons (such as unrest) or global reasons (such as Covid-19), students - especially those in public universities who reside inside the institutions - suffer disproportionately. They are forced to evacuate campuses amidst many logistical difficulties, scrambling their few belongings and trying to find a new place to spend the night, all at extremely short notice. Sometimes, the only available havens are the nearest bushes. The stress is infinitely compounded for female students who are either expectant or have young babies.
Financially speaking, these 'comrades'- to use campus patois- live perennially in the red. Often coming from poor backgrounds, a substantial number of them rely on well-wishers to foot their on-campus stay. Members of staff in some universities have often been called upon to make contributions towards assisting students facing stark starvation. The presidential decree found these youngsters in this dystopia, forcing them to deal with the double-edged swords of ultimatums to leave university precincts hurriedly, nightfall, empty pockets, increased fares, congestion in matatu termini and closed county boundaries.
This is the situation you would never want your daughter to find herself in, because it sets her up perfectly for gender-based violence and various forms of abuse.
Besides all this, students experience serious disruption in their studies. The many hours they had spent preparing for continuous assessments and the end-of-semester examinations are all laid to waste.
Even when they finally make it home, they have to readjust to unfamiliar lockdown schedules at home. This sudden shift from rhythmic university processes is bound to impact negatively on their mental health.
Perplexing question
This state of affairs explains a perplexing question as to why most university students shun the relatively cozy and secure on-campus leafy hostels of residence, preferring instead slum-like dwellings off-campus. Despite being prone to unpoliced decadence, students insist on living outside the universities because this offers a home-like setting outside the jurisdiction of the universities' disciplinary and ethical scope, and some stability in case of sudden closures.
These eventualities have precipitated strong sentiments in some social media, with participants arguing that the president's team of advisors is perhaps comprised of elite urbanites with zero contact with the grassroots; modern day Marie Antoinettes bound to ask haughty questions of the variety of 'if the students cannot travel home in time by public means, why can't their parents pick them privately and drive them home?'.
We sincerely hope that those charged with planning the Covid-19 lockdowns anticipated an eventual suspension of curfews and lockdown to enable the KCSE candidates travel home after completing their examinations.
Having intimate knowledge of the suffering that university students undergo, we willingly offer free advice to policymakers, on decisions that might henceforth impact on them. Our considered opinion is that future emergency pronouncements could be embellished with more consideration, kindness and humaneness, being arrived at only after much scenario analyses to cater for all cadres of Kenyans.
In our view, the state should provide additional support to students during such dangerous and rapid transitions, offering free transport from campuses to the bus station.
Additionally, university councils should be assuming responsibility for the plight of students after every emergency closure. Where possible, the Higher Education Loans Board should also be constrained to refund the students the remaining cost of their room and board, as well as tuition.
Despite all of this - campus life cut short, delayed careers, financial quandaries and future uncertainty-our students still remain admirably resilient and optimistic. Long live comrades! A luta continua!
-Dr Wahome and Dr Chacha teach at Laikipia University