Our political parties have failed dismally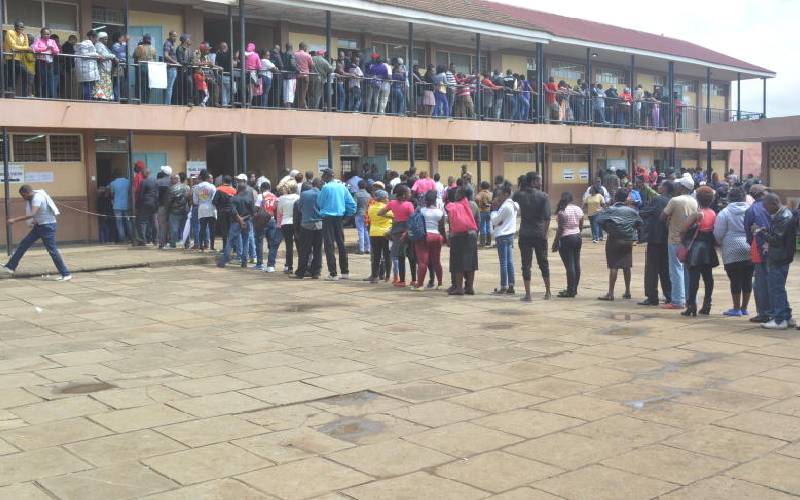 When it came to the game of stirring the pool to test political waters, the late President Daniel arap Moi was the chief percussionist.
Having surmounted hurdles as he transitioned from acting to substantive Head of State, his next step to consolidate power was to have his line-up elected to head Kanu.
In an unprecedented gesture, assistant minister GG Kariuki sent to media houses a pink paper headlined Kenya Imeamua (Kenya has decided) and in it, the line-up of who would be elected Kanu top office-bearers. The same pink list had quietly been circulated to the provincial administration, with instructions to "carefully" hand-pick delegates who would vote in the new party office-bearers.
In his book, The Illusion of Power: Reflections of Fifty Years in Kenyan Politics, GG avers that he was 'guiding' the delegates in their choices and that it was a strategy to tame intra-party opposition.
A replica of the same is being witnessed today where President Uhuru Kenyatta, in a glaring antithesis to democracy, unleashed machinations on both Houses under the veneer of seeking to work with those supportive of his agenda. Should we still be held back by agenda politics, five decades into self-determination?
The president convened a Jubilee Party Parliamentary Group meeting whose outcome was to change the leadership of Parliament and the Senate. The upshot of that is that Parliament, which is constitutionally independent, is being controlled by the Executive. That is an affront to the principle of separation of powers.
The bigger picture in all this is the stark reality that our political parties are ideology-starved personal fiefdoms; oligarchies and top-down systems of making policies and decisions. Most Kenyan parties are essentially ethnically established to support the ambitions of particular politicians. A few have some air of ideology, while a few seem to be merely clubs to enable individuals to stand for election.
They often do not have any real membership. Even if they hypothetically have membership and even membership cards, they also thrive in the assumption that people from the ethnic group and region from which the leader comes are members of the party. And because real party membership does not exist, parties are not accountable to their members.
One can effectively deduce that from where Kenyan political leaders sit, party members have only one function: To vote for them. They thrive because they lead largely inactive, uninformed and barely articulate members who have no say over who is nominated and what the leaders do if they get into power. Political parties are thus convenient mechanisms to mobilise the masses to vote.
Making decisions
Only top party leaders take fundamental political decisions while the bulk of rank and file members are barely consulted. This promotes exclusivity and alienation of the masses from participating in formulation of policy or making decisions, which goes against popular involvement in the democratic process.
In as much as political parties exist to attain power, they are also locomotives of representative democracy. They play several critical roles to make representative democracy a reality, representing societal interests within the State by participating in Parliament, aggregating and articulating interests, promoting pluralistic debates by presenting alternative policy platforms and integrating the diverse groups within a country into a cohesive nation.
The importance of political parties in the democratic process cannot, therefore, be underscored enough. The agitation for the repeal of Section 2A of the Constitution, which had turned Kenya into a single party State was at the core of the struggle for democratisation, which preoccupied Kenyans in the late 1980s and early 1990s. This struggle for the right to have many political parties was labeled the second liberation (the first being liberation from colonialism).
It however goes without saying that the reintroduction of multiparty politics though a celebrated milestone in the country's journey towards becoming a competitive representative democracy, simply engendered the proliferation of political parties most of which remain inefficacious.
Our political parties have performed dismally in their traditional roles, have malfunctioned in articulating coherent ideologies, develop concrete political programmes, establish national following and practice internal democracy–an elite model, which posits that the elite make decisions for the party. The so-called purge of alleged dissent in both Jubilee and NASA is an augury enough of the same.
The lacuna of ideology or policy platforms has not only seen parties appeal to ethnic emotions but also indulge in patronage and corruption, which have further heightened perceptions of ethnic inequality and/or exclusion within the political system. This phenomenon is magnified by the widespread violence that accompanies most of our elections.
We must consequently agree as a country that there is an urgent need to have a sober discourse on the role of political parties as institutions of democracy, especially their role in the socio-economic and political development. This calls for need to institutionalise our political parties which revolve around personalities, not policies.
The Registrar of Political Parties office was intended to implement the Constitution. It has been a gargantuan disappointment, partly because it has always had an acting head. Last month, the government finally advertised the position of Registrar of Political Parties nearly 10 years after the law came into force. Could this be because the government does not want an active Registrar or intends to have a 'politically correct' holder of that office in another unfortunate purvey of state capture?
Dr Oyoo is a data scientist and businessman based in Texas, USA