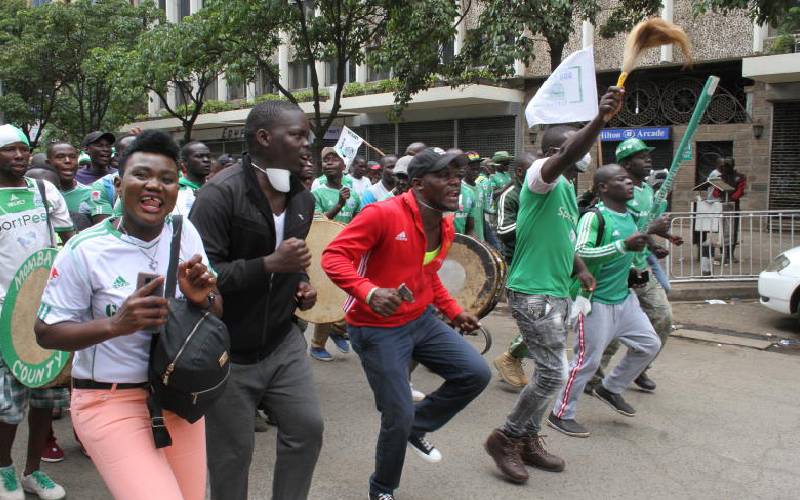 While we celebrated International Women's Day this past Sunday, President Uhuru Kenyatta and former Prime Minister Raila Odinga were sitting pretty in their VIP box at the Mashemeji Derby with third wheel, the Honourable Musalia Mudavadi. While the men seemed to be enjoying themselves, the match ended in tears for Ingwe who had their claws clipped by Gor in a one-nil loss at Kasarani Stadium.
Elsewhere, the deputy president was also in a sombre mood thanks to 'the system' which put the wind in his sails in 2013, but is now allegedly embroiled in a sinister plot to clip his wings. Life, as they say, can be a lot like football. You win some, you lose some, and you can only blame the game, never the players.
Life might be like football, but Kenyan politics has always been like gambling. And the deputy president of the Republic of Kenya is coming to the very public realisation that the house always wins. No matter what. Whatever happens. That system he speaks of is deeply entrenched and it will be interesting to see if a mere mortal can win against the machine.
But back to the derby. I spotted Sports CS Amina Mohamed in the box with the other VIPs, which was expected given her docket. But there weren't many women in the good seats. So, on International Women's Day, Kenyatta, Odinga, Mudavadi — and Ruto in absentia — were the faces of Kenya's leadership framework.
Read More
For the president, the former PM and Mudavadi, the derby may have been more about a photo opportunity than anything else, a chance to score political points. But for Kenyans in general, and anyone else looking on from around the world, it was a stark reminder that men run the country on and off the pitch, with the exception of a few women here and there.
This is not just a Kenyan problem. In the US, where an election is coming up later this year, the Democratic Party started off with a diverse field of candidates that included men and women of different races, ages, and social classes. At the beginning of the campaign period, the pool of prospective presidential nominees was overflowing with 'diversity' but with about seven months to go before the election there are just two candidates left in the game; both of whom are old, white and male. On the other side of the aisle you have the incumbent, President Donald Trump, which means that come November 3, 2020 it will be one white man against another.
With the exception of countries like Finland where women are at the top of their game — Finland is run by a female prime minister who ensured that women were fully and fairly represented in her cabinet — men call the shots in the global political arena. This is not to say that women have been completely sidelined. If anything, countries like Finland, and a few others in Scandinavia and elsewhere, prove that women have what it takes to campaign for political office, win tough elections, and then proceed to lead with great vision and tenacity.
But despite a few obvious successes, the fact remains that we need to take longer and stronger strides towards equality in all spheres of life. Until all women have the freedom to exercise agency and autonomy in their personal lives, and then to leverage that freedom for their own benefit and that of their communities, no woman can truly make a claim on equality. Yes, we can stand in solidarity with our less empowered sisters.
It is true women in positions of power, privilege or leadership can use their influence to support their disenfranchised sisters, but until all of us are free to choose paths that lead us to our fullest potential, none of us can make an honest claim to that elusive 'equality of the sexes'.
It's been 25 years since Beijing. A quarter of a century since the world's women came together to create a blueprint for equality in all areas of life. Since then much has been achieved in terms of laws, frameworks and policies that are designed to create platforms for women to level-up. But as women we still have a lot of internal work to do so that when we come to the table we take our place and fill up space knowing that individually and as a class, we are deserving and worthy of being seen, heard and appreciated. Happy women's month!
Ms Masiga is peace and security editor, The Conversation