Kenyans should learn from US to debunk dynasty, hustler's debate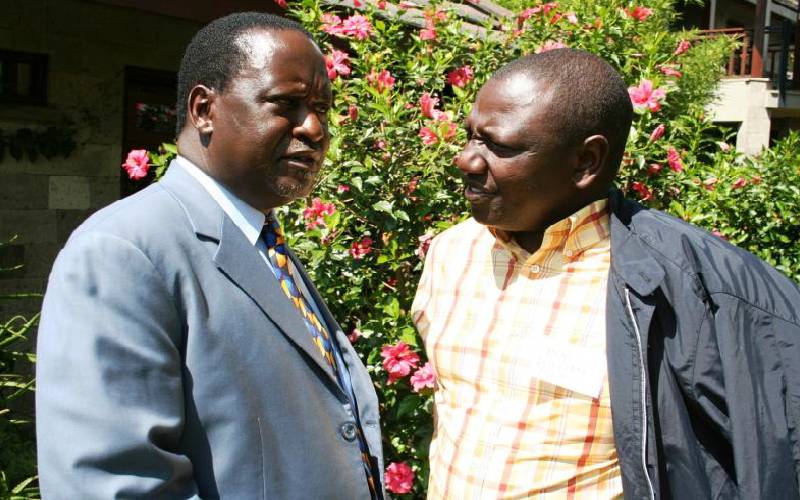 Over time now, the debate as to whether Kenya needs an aristocrat or a son or daughter of a holoi polloi at the helm of the country's leadership has raged. This has created a binary argument, pitting the so-called hustler nation adherents against the pro- dynasties. For a casual observer, it appears that Kenyan populace has a wide chasm between those supporting occupations of the top echelon of the country's political leadership by either a peasant's or dynasty's descendant. However, deeply dug into, it's indisputable that no one in particular has declared that he/she wants to support a politician because the latter hails from a dynasty.
Not to mention the fact that no politician in this country has ever asked for a vote on the scorecard of having come from a dynasty. So the question arises, who are these dynasty candidates and the son of peasants' candidates? It has become obvious that those who support President Uhuru Kenyatta, ODM leader Raila Odinga, or Baringo Senator Gideon Moi, ANC leader Musalia Mudavadi to mention a few, find themselves trapped in the web of being scorned as dynasty supporters.
On the contrary, those whose support coalesce around Deputy President William Ruto tout themselves as supporters of 'one of their own'- fellow son of a peasant. They have christened themselves the 'hustler nation'. For this crop of citizens, the aforementioned descendants of dynasties are no longer Kenyan citizens! They belong to some utopian country called dynasties hence reserve no right to claim the country's leadership. Before I let Kenyans interrogate these two political cleavages, let me advise my readers to take a historical walk into this aristocracy, dubbed dynasties. Our Constitution borrows heavily from the American one, meaning its crafters acknowledged the supremacy of the American brand of democracy over ours.
Prominent political families
Let's therefore find out if belonging to a prominent political family is a stumbling block in political contests in mature democracies like America. To start with, the Kennedy family dominated American political landscape from 1947 to 2011. In 1960s Americans didn't demonise J. F. Kennedy for his quest for presidency on the premise that he wanted to establish a Kennedy dynasty in US. Bush family also produced two US presidents. Americans did not reject George Walker Bush's political ambitions simply because his father had been a president. More recently, Hillary Clinton edged closer to presidency and no one villified her on the basis of her husband having been the president of the country she sought to lead.
Let no one accuse me of being an apologist to sophistry. I'm not defending these deserving Kenyans because they're from 'dynasties' but because they are just Kenyan citizens like all of us. I hail from a humble background. I'm doing everything within my means to make life better for my children.
Should I succeed in redeeming my family from the yoke of abject poverty, it will be quite unfair for anyone to lambaste my children and condemn them because I worked hard and placed them somewhere. I therefore tender the following points to strongly disagree with this dynasty-hustler nexus in our political discourse. First and foremost, the Constitution disallows discrimination based on age, social, political, ethnic or gender inclinations. Acceding to this dynasty-hustler bulkanisation is therefore a travesty to our struggling democracy. Secondly, no one had a chance to choose a family in which to be born.
Proper scrutiny
Take a quick survey and help us improve our website!
Take a survey
It's irrational for us to dismiss anyone based on his/her family background. Thirdly, either Raila, Uhuru, Mudavadi or Gideon Moi are not the only children in their respective families. There are others who are apolitical and nurture no political ambitions despite having been born in those families. Take EALA mp Oburu Oginga who has reportedly rode on the name of his younger brother Raila to win small seats and has never declared his interest in run for president. Besides, when Oginga Odinga died, Luo politicians elected Orengo to take over Luo leadership. Raila pulled himself by his own bootstraps to reach his heights in Political arena. If being in such a family was a springboard to political success, why don't we see all Kenyattas, Odingas, Mudavadis and Mois jostling for political posts? Given the above stances, I submit that let's scrutinise each individual presenting himself/herself for political office without using his family as the criterion for his/her suitability for office. Lastly, granted we decide to consider anyone with more influence than us as a member of a dynasty not suitable for leadership, we will not get anyone to lead us. Let's say we tell all peasant farmers to pick one of them from each county to come to Nairobi and choose a president. By the time one is nominated to Nairobi, he stops his peasantry and will be an aristocrat to his compatriots left in the village.
Back to the hustler nation, voting someone you believe belongs to this cliche is not a panacea to the problems facing us in this country. Once in office, the son of a peasant whose praise you are singing now will be in Nairobi hobnobbing with his/her fellows in the privileged class. This is not to mention the fact that there is no hustler, in the strictest meaning in the word that is aspiring to be a president in 2022. Take William Ruto, for instance.
This is a stinking billionaire with a palatial home that can only be owned by those who had become presidents in Kenya. The parameter used to preposterously consider him a son of a peasant is as spurious as the term hustler itself. Moreover, we've seen so many people who came from poverty-stricken families who became big looters once ensconced in office. Kenyans need to be told that this debate originated from individuals who want to take advantage of the biting poverty among the citizenry to drive their political agenda. They are masters of their political art.
Mr Ogolla comments on topical issues