Forging partnerships to empower all women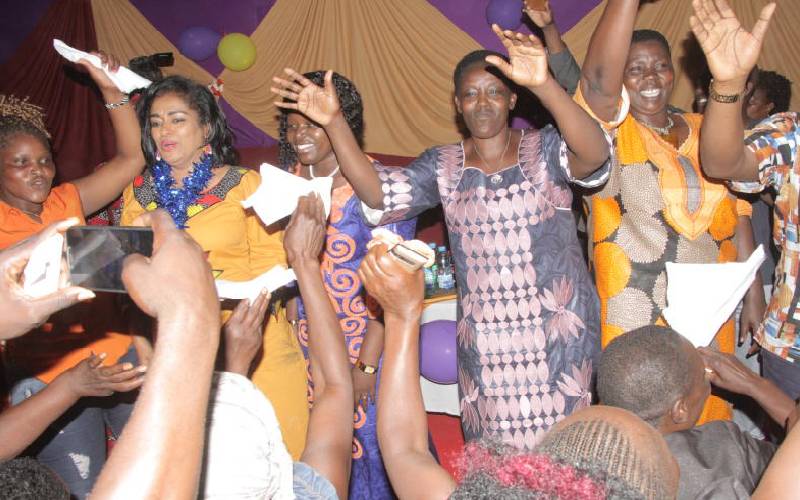 The Private Public Partnership (PPP) is a prudent concept that has played a leading role in the economic, political and social development of our country.
The PPPs have come with many benefits and great impact in Kenya because they have built a bridge to fill in the resource gap on the part of the government.
Admittedly, the fundamental economic challenge is related to the issue of scarcity. Because of limited resources and infinite demands, society determines how to produce and distribute these relatively scarce resources to satisfy its basic necessities of life. However, society is mostly dominated by demands for more food, houses, schools, hospitals and roads than the limited goods and services available.
Therefore, the widespread effect of PPPs prompted the introduction of legislation in the country to legalise and issue guidelines on how they should operate, leading to the introduction of the Private Public Partnership Act No 15 of 2015.
Legal framework
Since then, the legal framework has guided the participation of private sector in financing, construction, development, operation, maintenance of infrastructure or development of government projects through concession or other contractual arrangements.
A number of PPPs have been entered into in supporting government agenda in a number of sectors such as agriculture, forestry and fishing, wholesale and retail trade, service industry, transport and storage, Information and Communications Technology (ICT), manufacturing as well as accommodation and food services.
The Women Enterprise Fund (WEF) – a semi-autonomous government agency under the Ministry of Public Service, Youth and Gender Affairs that promotes measures geared towards poverty reduction, gender equality and women empowerment – has been keen to foster such engagements.
Since inception in 2007, WEF has cumulatively disbursed loans of up to Sh16.9 billion to 1.6 million women entrepreneurs countrywide.
According to the report on micro, small and medium enterprises, there were 14.8 million people engaged in small business enterprises in the country.
The Micro Small and Medium Establishment Report 2016 by the Kenya National Bureau of Statistics indicates that more than 50 per cent of these entrepreneurs are women.
There are a number of organisations that are working together with the WEF to improve women welfare. A total of 557,000 Kenyan women have already benefited through business skills training and access to loans to date.
Some 285,000 women are being empowered in a joint economic empowerment programme between WEF and Coca-Cola Company.
Other initiatives such as Access to Government Procurement Opportunities (AGPO) where 30 per cent of government procurement is given to women and youth is also a positive step towards women and youth economic empowerment.
This is in addition to the Uwezo Micro Finance, Rafiki Micro-Finance, SMEP Micro-Finance Bank, Kenya Women Micro Finance Bank (KWFT) and savings and credit cooperative societies and many more, which also provide finances to many women groups.
These sources of finance are supported by merry-go-round, chamas, money lenders, non-governmental organisations, trade credit from wholesalers and suppliers and other non-deposit taking microfinance organisations.
The aspect of PPPs increase the number of women beneficiaries and impart skills to enable them to excel in business and other professions through training and capacity building. The women are also trained on record keeping and accounting, marketing, legal advice and business planning.
This in effect reduces levels of poverty, inter-dependency, and above all increases economic empowerment of women - which has been recognised globally by the introduction of UN Women - as an entity for gender equity and the empowerment of women.
Ideally, these partnerships are built on the opportunities that lie in strengthening women's entrepreneurship and improving their access to credit.
At the Association of Professional Societies in East Africa (APSEA) - a joint forum and umbrella body of professional societies – we bring together professional bodies of diverse disciplines. Our main aim is to maintain, advance and advocate for the highest professional standards and ethics in the public interest and to promote the interests of the members both regionally and internationally.
We enable State and non-State actors to partner in promoting integrity, combat corruption, unethical conduct, to raise competitiveness in doing business, and to forge strategic alliances against graft.
We also focus on women empowerment and support the Constitution, which provides affirmative action where the State is required to take legislative and other measures to ensure that no more than two-thirds of the members of elective or appointive bodies are of the same gender.
Our honorary secretary is a woman and a member of the Institute of Certified Public Accountants of Kenya and the Institute of Certified Secretaries of Kenya. The immediate former chairperson early this year was woman.
Mr Okatch is the Chairman of the Association of Professional Societies in Kenya (APSEA) [email protected]