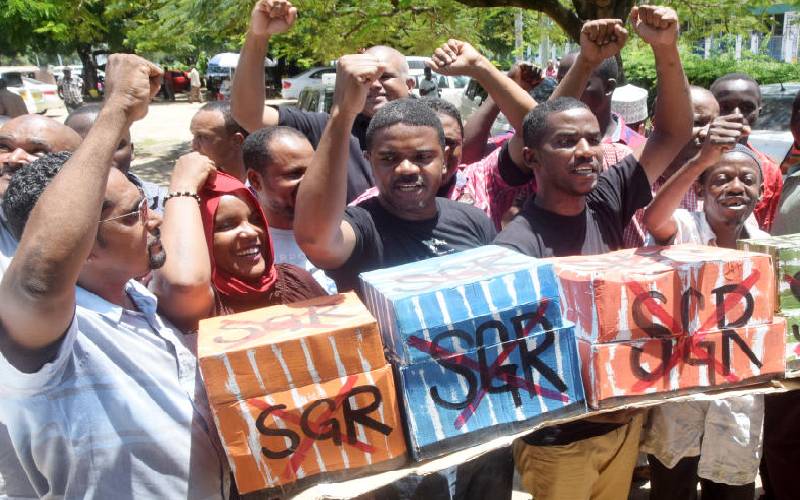 Five years ago, I met the top two transporters in Mombasa. Between them, they owned hundreds of trucks and employed thousands of people. I had a simple question. How will SGR affect you and how are you preparing for it? I was flabbergasted by their responses.
They did not expect any negative effects from SGR. How can one lose 40 per cent market share and still not be affected? I asked myself. We argued but they had their heads buried deep in the sand. As a businessman, I knew that losing market share would have a tremendous negative impact. I proposed that they set up stations in Nairobi and upcountry. They said no. I prevailed on them to reduce the fleet while they assessed the impact. They said no. Then the train hit them.
I listen to economist David Ndii pontificate about the 'over-inflated' cost of SGR. I watch the politicisation of SGR by civic society and the demonstrations they hold with amazement. Coast politicians have now made this a cause celebre as they fight for 'coastal rights'' in what is clearly a ploy to win sympathy as they gear up for 2022 elections. They should have realised by now that the government does not care about these demonstrations. All they care about is the port, the SGR and their precious hotels and holiday homes. Try and demonstrate against the port and you will see GSU helmets in the streets of Mombasa.
Academic arguments
These economic arguments about SGR are academic and polemic now. The railway line is already built. No argument will change that fact. The demonstrations are a waste of time and energy and as useful as those Freedom from Hunger Walks. As youths we all walked but people are still hungry today.
We were all wrong about SGR. I fully supported SGR. In my mind, this was a transformational project that would have changed Kenya. All over the world, railways bring economic development by opening up the place to trade and commerce.
The economic power of the United States stems from the internal development that followed the growth of its railways. In Kenya, the old railway line opened up many parts of the country and many of our towns owe their very existence to the railway line.
SGR was the grand vision of former President Mwai Kibaki and former Prime Minister Raila Odinga. President Uhuru Kenyatta's administration will take the credit for its completion. I knew it was overpriced but I chose to look at the bigger picture. Eventually, the good would supersede the evil in it. We just didn't know how overpriced it really was. We didn't know that we had been sold inferior technology. We didn't know it would be used to kill the transport sector and all its supporting ecosystem. This is now water under the bridge and demonstrating won't change a thing.
So what is to be done? First SGR should be seen for what it is. An economic enabler. Clearly, the edict to move all cargo on the SGR has grievously harmed Mombasa. The contractual obligation to the Chinese was for 40 per cent of the cargo. We should stick to this and let the market decide whether rail or truck is viable.
What we can do
Our Members of Parliament should take this case to Parliament and the courts. The entire coastal leadership from Lamu to Kwale should champion this cause to every level of government. What happens in Mombasa affects the entire coast. When Mombasa catches a cold, Lamu gets pneumonia. Government must not destroy our economy so blatantly.
Second, the economy of the Coast does not live and die on transport alone. Economic realities change. Cities must adapt. Mombasa and the Coast must also adapt. We need to find new avenues of economic regeneration based on our competitive advantages. The biggest advantages we have is our proximity to the port and the start and end of the railways. Today, Kiambu, Athi River, Nairobi, Naivasha, Nakuru, Meru, Isiolo, Kisumu and other towns and cities already have Special Economic Zones (SEZ) or are in the process of building one. The Coast is still waiting for Dongo Kundu which is at least eight to ten years away. It will come eventually, but like the coming of Christ, it may not come in your lifetime. It is certainly coming late for our youth. They will grow old waiting.
Amazingly, we have millions of acres of flat unoccupied land from Mariakani all the way to Voi. There is a railway line, roads, water and power passing through this land. There are thousands of Chinese companies looking for alternative places to set up factories. We have a Comesa market of 150 million and AGOA market. Yet the coast lies sleeping waiting for the Government to do things for them. We are our own worst enemies.
Coastal politicians must find the land and investment. We must take control of our economic destiny and find our own solutions and then ask government for support. We must never depend entirely on the National Government to sort out our problems.
After all, isn't this why we all supported devolution? This is how we will create jobs for our people. This is what other counties are doing.
Mr Shahbal is Chairman of Gulf Group of [email protected]