Why Ruto should mind curse that fell Okonkwo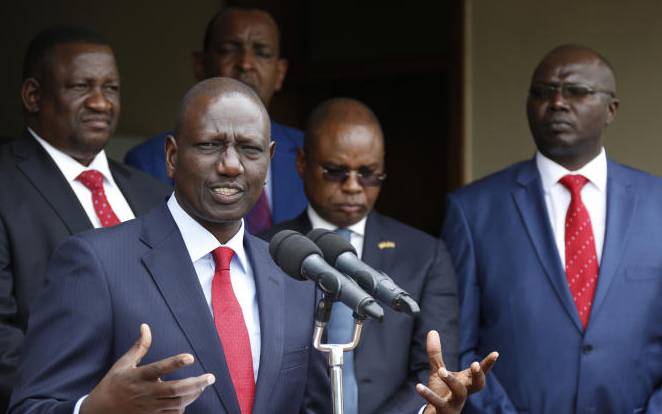 When labour supremo the brazen, nebulous and indefatigable Francis Atwoli recently prophesied that Deputy President William Ruto will not be in the ballot paper in 2022, ordinary minds ranted and raved. However, discerning minds went into top gear. Prophets are "caused to know", and when this happens the prophet must "speak out" the truth not just about the prediction, but the causes and cures.
Parallels
Mr Ruto has a parallel in the star character of Chinua Achebe's Things Fall Apart – Okonkwo. Biyi Bandele in an introduction to the book indicates that the novel opens with perhaps the most celebrated, certainly the most famous opening paragraph in the history of African literature:
"Okonkwo was well known throughout the nine villages and even beyond. His fame rested on solid personal achievements. As a young man of eighteen he had brought honour to his village by throwing Amalinze the cat. Amalinze was the great wrestler who for seven years was unbeaten from Umuofia to Mbaino. He was called the Cat because his back would never touch the earth. It was this man that Okonkwo threw in a fight which the Old men agreed was one of the fiercest since the founder of their town engaged a spirit of the wild for seven days and seven nights.
Growing up
Okonkwo grew up in a patient and conservative, yet flexible and accommodating society whose "Oracle never sends it out to do battle in an unjust cause". Okonkwo, its most revered son has a will that stands in stark contrast to the forbearing nature of his society. He is headstrong and inflexible, short tempered and uncompromising. Yet Umuofia venerates him. The nine villages idolise him; Okonkwo is a maverick in a Libertarian Society. It is this potent brew that ironically unravels the clan and fells Okonkwo. Does Okonkwo represent Vintage William Ruto at his very best?
Okonkwo was clearly cut out for great things. He was still young, but he had won fame as the greatest wrestler in the nine villages. He was a wealthy farmer and had two barns full of yams, and had just married his third wife. To crown it all, he had taken two titles and had shown incredible prowess in two intertribal wars. And so although Okonkwo was still young, he was the greatest man in his time. Age was respected among his people, but achievement was revered. As the elders said; "if a child washed his hands he could eat with kings". Okonkwo had clearly washed his hands and so he ate with kings and elders.
Is William Ruto not one of the famous sons of the land? Is he not rich? Is he not a man of titles – Elder of Golden Heart (EGH) second class and Doctor of Philosophy (PhD). Has he not helped win two elections for his party? Did he not become the Deputy President of the Republic at the tender age of under fifty? Does he not eat with kings, queens, presidents, prime ministers and elders of this world?
Fear and weakness
Beneath the steel demeanor however, Okonkwo's life was dominated by fear, the fear of failure and weakness. It was deeper and more intimate than the fear of evil and capricious gods and of magic; the fear of the forest, and the forces of nature, malevolent; red in tooth and claw. Okonkwo's fears were greater than these. It was not external. His fear lay deep within himself. It was the fear of himself.
Does William Ruto nurse deep fears in his life? Is it true that he hates gentleness and orderliness? That he considers them the hallmarks of failure and weakness? Men with deep seated fears are bound to hurtle to tragedy. Paranoid tendencies in leaders produce the dictators of this world.
I "Looking at a king's mouth," said an old man, "one would think he never suckled his mother's breast" He was talking about Okonkwo, who had risen so suddenly from great poverty and misfortune to be one of the lords of the clan. The old man bore no ill will towards Okonkwo. Indeed, he respected him for his industry and success. But he was struck as most people were, by Okonkwo's brusqueness in dealing with less successful men.
The oldest man had sternly warned that those whose palm kernels were cracked for them by a benevolent spirit should not forget to be humble. But it was really not true that Okonkwo's palm kernels had been cracked for him by a benevolent spirit. He had cracked them himself. Anyone who saw him struggle against poverty and misfortune could not say he had been lucky. If ever a man deserved his success that man was Okonkwo.
At an early age, he had achieved fame as the greatest wrestler in the land; that was not luck. His chi or personal god was good. The Igbo people have a proverb that when a man says yes his chi says yes too. Okonkwo said yes very strongly, so his chi must have agreed. And not only his chi but also his clan too, because it judged a man by the work of his hands. Again this is vintage William.
Big dreams
Okonkwo's life had been ruled by a great passion – to become one of the lords of the clan. That had been his biggest dream. And he had all but achieved it. His vision was to rebuild his compound on a more magnificent scale. He planned to build a bigger barn than he had before and he would build huts for two new wives. Then he would show his wealth by initiating his sons in the ozo society. Only really great men in the clan were able to do this. Okonkwo saw clearly the high esteem in which he would be held and he saw himself taking the highest title in the land.
Every day when he wakes up, does the Deputy President see himself as the President of the Republic. Lifting high, the sacred instruments of power amid pomp and pageantry? Does he fancy inspecting the guard of honour mounted by the Kenya Defence Forces. Attending state banquets and mounting the stairs of the presidential jet.
Betrayal
For Okonkwo, betrayal came without warning. In that brief moment, the world seemed to stand still waiting in utter silence. The men of Umuofia were merged into the mute backcloth of trees and giant creepers, waiting. But then Umuofia had broken into tumult instead of action at the very hour of need for Okonkwo. He discerned fright in the tumult and he had to chart a course of his own. Okonkwo hanged himself. Obierika who had been gazing steadily at his friend's dangling body ferociously burst "that man was one of the greatest men in Umofia. You drove him to kill himself, and now he will be buried like a dog……" He could not say any more. His voice trembled and choked his words.
The story of this man who reigned but never ruled would make interesting reading. Historians, Sociologists, ethnographers, anthropologists, Ichthyologists Ornithologists and theologists could almost write a whole chapter on him in the books they plan to write. Perhaps not a whole chapter but a reasonable paragraph at any rate. There was so much else to include in their work and one must be firm in cutting out details.
Mr Chesang is a historian