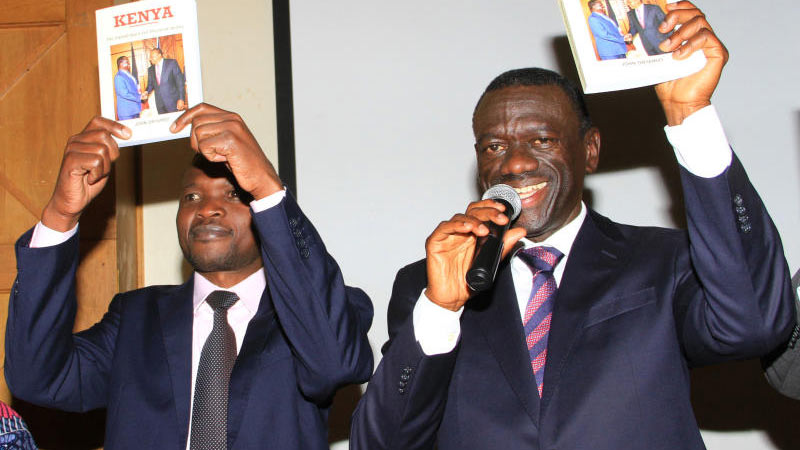 The sizeable crowd in the room gave him a long applause and a standing ovation when he finished his address. Ugandan opposition leader, Kizza Besigye, was speaking in Nairobi during the launch of the book by John Onyando, Kenya: The Failed Quest for Electoral Justice.
While, over the years, Ugandan President Yoweri Museveni often gets a chance to speak in Kenya, this was the first public speaking in Kenya for Besigye, who has become Museveni's main political challenger. This fact shows how marginalised Besigye remains and how difficult it remains for him to take charge of his own image outside the borders of his country.
Museveni shot his way to power in 1986, overthrowing the short-lived regime of General Tito Okelo, himself a coup plotter against his own president, Milton Obote. Unlike his predecessors who all promised unrealistically elections after forcefully taking power in Uganda, Museveni explained that the mess in the country did not allow for quick elections. He therefore promised a four-year transition period within which he would stabilise Uganda and then hold elections.
In the circumstances, Museveni's approach looked thoughtful, and was responsible for what would become an increasingly favourable image that he was to acquire.It is now 32 years since he first came to power and Museveni is still around.
Uganda's political situation has long since become stable and the fear of another military coup has now largely receded. This was once seen as Museveni's most important legacy for Uganda. Although Uganda now knows stability, the country's elections have increasingly become contentious and the quality of the last ones, in 2016, was particularly poor, and even the usually forgiving international observers were compelled to say so.
While Museveni had long found a way of overriding the constitutional two term limits that would have had him retire from office at the end of his term in 2006, his opponents still held the hope that a 75-years upper age limit for presidential candidates would eventually lock him out of future presidential contests in Uganda. However, in 2017, Museveni managed to secure a constitutional amendment which removes the upper age limit, setting the stage for what now looks like a Mugabe-like life presidency.
In exchange for allowing him a chance at a life presidency, Museveni allowed members of the Ugandan parliament to award themselves an additional two years in office through the same constitutional amendment. Although a court case has been filed to challenge these amendments, there is skepticism that the country's tightly-controlled judiciary will find the courage to rule against Museveni.
Once celebrated as part of a breed of new visionary African leaders, Museveni has increasingly become intolerant over the years and has ultimately openly turned into a strongman, of the same variety as those before him whom he fought against.
His 1986 position on term limits has changed and while he was originally opposed to "leaders who want to overstay in power", he has now taken steps to remain in power indefinitely, at great cost to the Uganda's institutions and the country's overall stability.
Besigye is the one person that has consistently stood up to Museveni, for which he received significant retribution. The rough treatment to which he has been subjected masks two important roles that Besigye has played in Ugandan politics. First, because of the country's history, the chances of an armed insurrection against Museveni are higher than would be the case in another country.
The fact that Besigye is holding together a credible and strong opposition remains a source of hope for alternative leadership and discourages the temptation towards an armed insurrection against Museveni. As a combatant in the previous insurrection, Besigye strongly opposes armed resistance and repeatedly made this point during his speeches in Nairobi.
Secondly, more than anybody else, Besigye has exposed Museveni as a dictator. By organising a strong opposition, Besigye has forced Museveni to reveal his hand through the contentious constitutional amendments, and also the sham elections, all of which confirm that he is no better than the dictators that he went into the bush to fight against. Outside Uganda, Besigye is greatly misunderstood. To the international world, the framing what he stands for is largely controlled by Museveni.
Those who listened to Besigye last week were greatly impressed by the clarity of his message, and how deeply he cares about Uganda and humanity in general. The courage and consistency with which the opposition leader has pursued his convictions greatly enhances his credibility.
To simplify it, Besigye's the people must not entrust their lives on virtuous leaders. Instead, the people must organize themselves in a way that makes sure that leaders only act in accordance with the will of the people.
Since Museveni, once seen as a virtuous man, has turned out to be a dictator, others after him can also become dictators given a chance. The only way to prevent dictatorship is to give power to the people so that they, rather than their leaders, are in control. A much misunderstood person, Besigye must now do more public speaking outside of Uganda, especially in East Africa.
- The writer is Executive Director KHRC. [email protected]