US trying to regain foothold in the region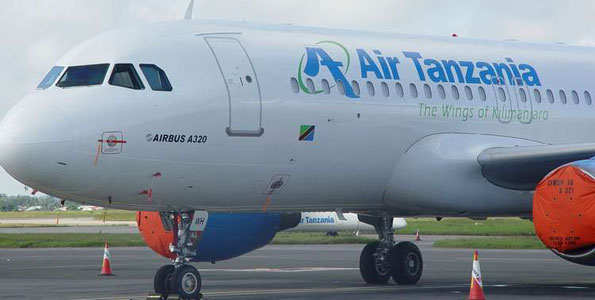 On July 9, 2018, Air Tanzania will take delivery of its first ever wide-body aircraft; a Boeing 787-8 Dreamliner. Kevin Evans, Vice President for Rolls-Royce Civil Aerospace for Africa, will be attending the event in Dar es Salaam Tanzania and is expected to perform the official handing over of the aircraft as one of the 'dinosaurs' of the African aviation once again tries to raise its head.
The aircraft named 'Kilimanjaro-Hapa kazi tu', has already successfully completed its maiden runway test flight in the US. As it takes wing today on its multi-hop flight, it soars with the hopes of the entire nation to once again gain aviation relevance. Air Tanzania Company Limited is hopeful of beginning its thrice-weekly Mumbai, India flights in September, should things go as planned.
According to local media reports, Air Tanzania is reviving itself by introducing a number of aircraft to combat the competition in Africa from fellow key players including Kenya Airways, Ethiopian Airlines and Rwandair. With three other planes set for delivery later this month, the revival of air Tanzania under President John Paul Pombe Magufulu is truly gaining steam. At the heart of these efforts is the move by a resurgent United States to become more relevant in the region as it celebrated its Independence Day on July 4.
This resurgence and the enlarged US footprint is not just in Tanzania alone. In Kenya, former US President Barack Obama is set to visit the country on July16, 2018 in his first trip to Africa since leaving office and barely a month after the American chamber of commerce in Nairobi held a conference that brought 60 investors to Nairobi to sign public private partnership deals with Government and private sector.
Bagged access
Then there is the fact that on October 28, Kenya Airways is expected to make its maiden flight into the US, starting with a flight into and out of New York in a move that is expected to open up not just the northern American market, but also the greater south and Central American market as well to Kenyan traders.
Hot on the heels of the announcement that Kenya had indeed bagged category one status for Jomo Kenyatta International Airport as the jumping-off point for the US flights, came the announcement that Rwandair had also bagged access to US airspace through a codeshare agreement and would soon be starting flights into the US through partners. An audit by the US federal aviation Authority, the FAA on Rwandair and Kigali's aviation and security facilities is due in September 2018, with projections for the start of direct flights by 2019 should the green light be given.
And while all this activity is just on the aviation front, equally so, in other areas the United States has been extremely busy revamping its influence and regaining a foothold in Business and the economy in many regional capitals and boardrooms across the region and in many instances creating totally new initiatives and opportunities in different fields.
Take energy. An American company, General Electric or GE as it is more commonly known, is at the heart of Kenya's drive through a consortium dubbed Amu Power to introduce 1050 megawatts of coal power into the Kenyan energy mix. The project is expected to make the Africa debut of GE's ultra-super critical coal burning technology that is the cleanest coal on a global scale and similar to what is currently being installed at the 2,400MW Hassyan clean coal power station ultra-supercritical (USC) power plant being developed in Saih Shuaib, Dubai, United Arab Emirates.
America is also going big on regional road infrastructure projects as its tries to roll back Chinese inroads across Africa. At recently concluded American Chamber conference, President President Uhuru Kenyatta signed a deal that will see Bechtel Corporation, an engineering, procurement, construction, and project Management Company construct a Sh300 billion expressway connecting Nairobi and Mombasa.
And there are various other efforts by the US to partner with Kenya and indeed Africa at large. Strange as it may seem, even in the midst of President Donald Trump's America first, look inwards campaign, efforts at American geopolitical and business dominance continue to steamroll ahead as the US ramps up its battle for hearts and minds in Africa in the face of an already entrenched Chinese onslaught.
Even as President Uhuru Kenyatta put pen to paper for the expressway deal, it was not lost on many that the senior most US official present at the event was Gilbert B. Kaplan, the Under Secretary of Commerce for International Trade in the United States Department of Commerce. He was travelling at the head of Trump's 'President's Advisory Council on Doing Business in Africa (PAC-DBIA), composed of 23 companies from the United States.
American culture
The country specific data the group gathers is expected to put American businesses at the top of the pile in driving African growth and development and hence stake an increasingly bigger claim for not just the resources, but also the hearts and minds of the continent. It is a battle that is somewhat won. While many Africans buy into popular American culture through music and movies and can immediately relate with many American idols, musicians, artistes and starts, they continue to chomp down on American fast food brands like KFC and Dominos Pizza.
While indeed the consuming public may be in love with the American brand, the governments in the region have been stoically looking East, with their dollars continuing to flow in that direction through a multitude of government to government and quasi government utility projects that see many African countries build infrastructure that they sorely need and that will uplift the quality of life for many of the African people.
This is the mountain that America has to surmount, not just in Kenya but across Africa. As the dust settles on the recent Amcham conference, and the American Independence Day celebration, a new Africa continues to take to the skies as the belle of the ball, feted by many a suitor looking East, but now also wooed westward.
Mr Wakaba is a Business Editor, KTN News
To fight drought, involve communities
According to the latest information from the Meteorological Department, rainfall will be poorly distributed in April, May and June, and this will have a serious impact on agriculture