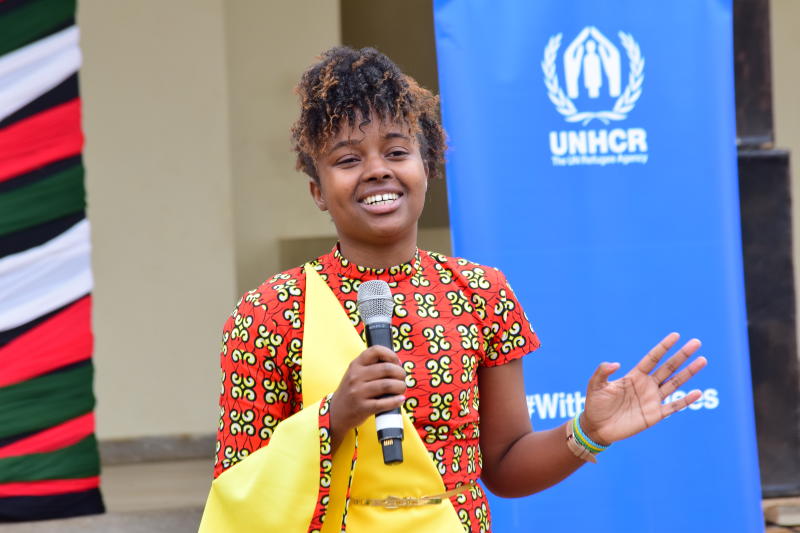 Behind every refugee there's a name, a story and a person. We may have changed countries, but we are still the same people. We may be unable to go back to our countries of origin because of fear of persecution or ongoing war and crises. Mothers, fathers, brothers, sisters, doctors, teachers – we all have names and identities that go far beyond "refugee", but too often we're just seen as a faceless influx.
Not a nickname
My name is Foni. People assume it's a nickname but it's not – I was named after my grandmother. People mistake the spelling a lot too, calling me phony or phone. There's a song by Jadakiss feat. Swizz Beatz and Oj Da that goes "He's phony, she's fake…." that people tease me about. That always cracks me up! I laugh because the people teasing me know who I really am. My parents fled South Sudan in 1991 because of the war, and I grew up in Kenya with my four siblings.
SEE ALSO: Kenya's open door policy offers economic opportunities for refugees
As well as facing discrimination we struggled to get documentation, and to access basic rights like education. I was always determined not to be defined by my past. My family and I have so much to offer, and I refused to feel like a burden. I graduated from university with a BA in Mass Communication and now run a small organization with a friend called Youth Empowerment & Mentorship Initiative. We work with young people to help them fulfil their potential and pass on their knowledge and skills to others.
What we do
We arrange activities that build inter-community and inter-cultural relationships, and promote peer support and self-reliance, to change the common perception among refugees and young people that they are helpless or passive. It's been amazing to see young people we've mentored step up to mentor others, or to see people identify a need in their community and feel empowered and confident enough to come up with a solution. As a young woman, I have faced various challenges, because of my gender as well as my refugee status. I have encountered individuals who don't believe women can contribute actively in the community. I've been told how that "women are too soft" and shouldn't be included in the peacebuilding process in South Sudan. But the war didn't just affect men, it affected everyone. This said, over the past few years I've seen a positive shift and the voices of women are being heard more. I work with the UNHCR Global Youth Advisory Council, consulting on issues relating to the protection and development of young people, including those who are internally displaced and stateless. I recently attended a high-level meeting focused on the peace process in South Sudan - one of the ways I've been able to make my own voice heard. Nowadays, I see Kenya as my second home and I have made friends with people who feel like family. But I've never lost my identity and I am determined to use my skills to help rebuild my country one day.
Kenya my home
Moving to Kenya allowed me and my family to fulfil our potential, and I want to help others to do this. As well as a sense of belonging, we've had the opportunity to explore the culture and history of a new country. Everyone deserves these experiences, but it's impossible unless people are committed to achieving peace and working together, without discriminating. Campaigns like Amnesty International's I Welcome are so important in today's climate. I Welcome helps us move from challenges to solutions. Most of all it helps us to see beyond refugee status, and encourages people to ask questions and hear stories. Going forward, I want to continue to fight to give vulnerable young people a voice. Everyone deserves to live in a dignified way in an equal society, defined not by their status but by their skills, stories and successes. Every day, I tell my family and my friends that the term "refugee" doesn't define them. It shouldn't hold them back. I am not just a refugee. Foni and her family fled South Sudan in 1991. Growing up in Kenya Foni, now 25, refuses to let the label 'refugee' hold her back. World Refugee Day was marked on Wednesday, June 20.