Let's discuss: How sustainable is the devolution marvel?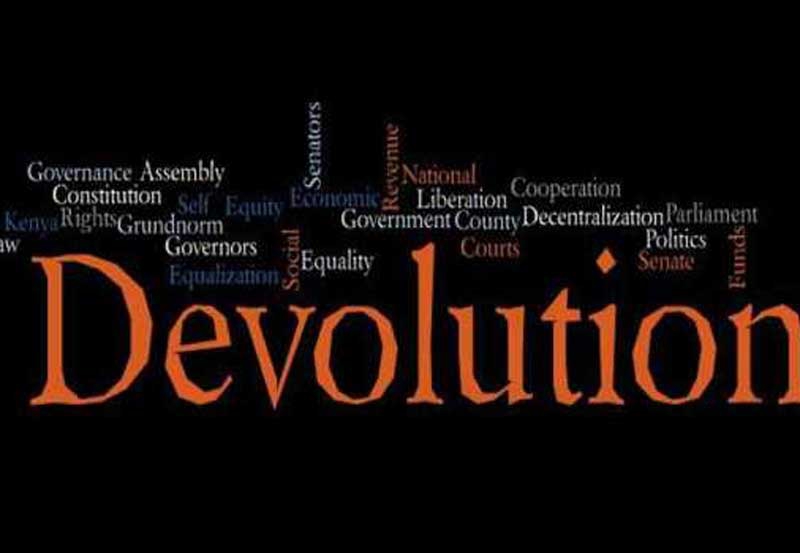 Devolution has been on the receiving end rom political and social commentators and academics on its sustainability. Some have even called for the reduction of the number of counties from 47 to 10. The overriding issue is sustainability; in terms of cost and resources.
If we focus our attention on economic development, we pretty much focus on policies and projects initiated by counties that are meant to spur economic development and job creation. There is however a propensity for county administrations to initiate economic projects premised to be used as leverage and bargaining tools during elections.
Sustainable projects
Don't get me wrong, counties are expected to be the engines of economic development at the grassroots and for this expectation to be realized, county government investment is required in sectors such as infrastructure development, job creation and so forth. What I'm trying to reconcile is how policymakers ensure that counties initiate projects that are sustainable beyond the lifespan of one administration.
In many cases unfortunately, counties do not weigh their resources capability before embarking on these projects. All the signs indicate that most projects initiated by counties are purposed to last for the duration of the administration in power, this means a change of administration automatically means the project is neglected and this is exactly where intervention is much required.
It goes without saying that for political purposes, incoming regimes tend to abandon previous projects for the sole purpose of initiating new ones which they can claim ownership. It will be naïve to expect a Governor to ride on a project initiated by his predecessor.
County Government are not like households, they never run out of money meaning replacing old projects with new projects isn't an issue. This is why there is an urgent need for measures to be proffered either through policy or statutory change to ensure continuity in economic policies in counties.
It's worth pointing out that the one of the most poignant discussion around sustainability of county governments remains the ballooning wage bill. In a recent report released by the Controller of Budget, Agnes Odhiambo, it revealed counties wage bill has shot up to over 70 per cent of total expenditures.
The emoluments to county workers has hit Sh66.4 billion from Sh61.8 billion last year. Wage bill remains one of the key elements affecting sustainability of county governments. Let's be clear, to tame the issue of wage bill it requires political balls which is, quite frankly, lacking at the moment. There has been no incentive for county administration to embark on taming the wage bill; in fact, new administrations are on a hiring spree.
For a start, counties should freeze employment and commence voluntary early retirement programmes for older staff. Secondly, administration should challenge the dogma that reduction of workforce will automatically equate to political suicide.
Having played an integral role in the 2017 election campaigns, I for certain, know that voters primarily care about services and getting value for money. Governors ought not fear trying this out. All it needs is a sober approach bereft of the normal politics and sideshows. It is about streamlining the recruitment process, auditing the current staff numbers and employment of radical austerity measures in public spending.
The issues negatively affecting sustainability of devolution have also been contributed by policy error. It was a mistake to allow counties handle roles which clearly they lacked capacity to, it was a mistake to weaken the senate in matters oversight and it was a mistake not to regulate devolution more stringently. Policy can make a huge difference, 5 years is a long enough to identify what needs to be done and start doing.
Put all this together, when you speak about sustainability, it all has to start with the Executive. Sustainability has to be ingrained in the DNA of Governors. Sustainability is not an impossible dream, it will require change of mindset, from the County Assembly, to the Executive to the lowest cadre of employees. One thing is for certain, we cannot afford to continue on the same path and expect a different outcome.
Mr Mwenda is a policy and communications specialist.
To fight drought, involve communities
According to the latest information from the Meteorological Department, rainfall will be poorly distributed in April, May and June, and this will have a serious impact on agriculture