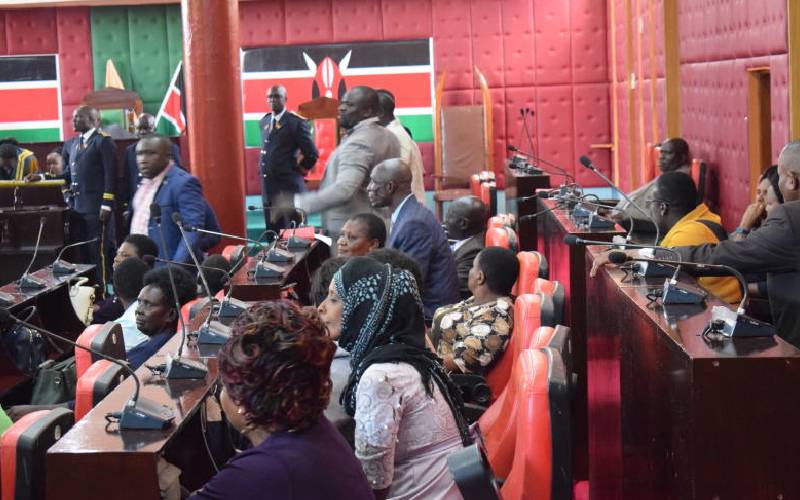 Homa Bay MCAs will be remembered for constant bickering, fist fights and endless supremacy wrangles as curtains fall on the assembly.
Since they came into office in 2017, the assembly has barely known peace as a scramble for leadership positions dominated most sittings.
So bad has been the situation that in the last four years, the ward reps have had six different majority leaders.
Now, however, with less than two months before they exit office, another supremacy wrangle has hit the assembly as MCAs scramble to control the County Assembly Service Board.
On Tuesday, the MCAs ousted Kwabwai MCA Richard Ogindo and his Kanyaluo counterpart Jeff Ongoro from the board.
They were replaced by Majority Leader Oscar Abote and Homa Bay Town East MCA Juma Awuor.
The two were ousted in a proceeding presided over by the Deputy Speaker Ellyas Orondo. The development adds to the list of supremacy battles that have dominated their five-year term in office.
During that period, Ogindo, Ongoro, Walter Muok (Kanyadoto), John Kiasa (Kanyikela), George Okelo (North Kabuoch) and Oscar Abote of South Kabuoch, the current office holder, have all served as majority leaders.
Speaker Elizabeth Ayoo has also been a victim of the supremacy wars and has been impeached twice. She was, however, rescued by the courts.
At one time, Gwassi North MCA Evance Marieba served as an acting speaker after Ayoo's first impeachment.
Marieba was later impeached before the position was taken by his Kabondo West counterpart Godfrey Anyango. When Ayoo returned, she served for some time before being impeached again.
Her position was taken by her Deputy Ellyas Orando. She later got a stay order from the court.
The lack of peace in the assembly has tainted its reputation. Nominated MCA Judith Omogi admitted that the county assembly performed dismally. Omogi said the county assembly faces problems that must be fixed.
"The County Assembly service board is the engine of the institution. The right time to clear this mess is now so that our successors find a better House," Omogi said. MCA for Lambwe Paul Adika argued that the conflict is caused by greed.
Adika argues that some MCAs in leadership positions take advantage of their opportunities to mistreat others.
"Remission of our LAP Fund deductions was delayed for five months until we raised an alarm. How do you expect such MCAs to continue holding the positions?" Adika asked.
But Kabondo East MCA James Ochieng' argued that the recent changes were aimed at restoring order.
"It is wrong for MCAs to keep fighting. This causes underperformance," said Walter Opiyo, Speaker of Homa Bay County Bunge la Wenye Nchi.