Gold miner says it took hand of God to come out alive and unhurt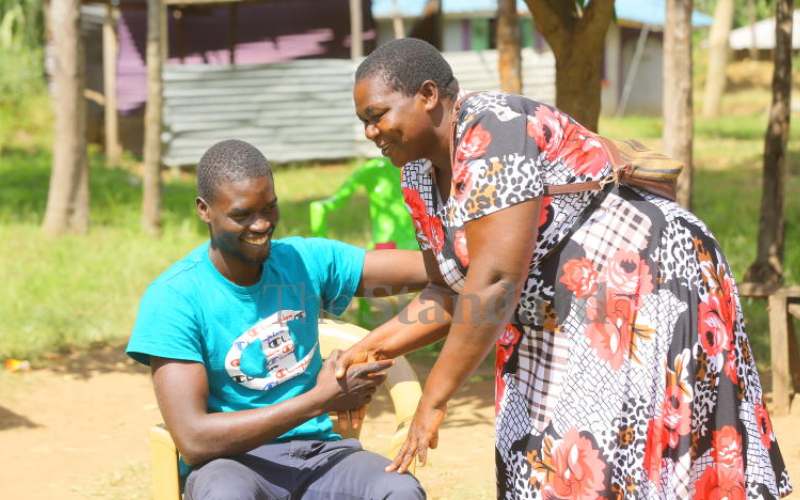 Noah Owuor Ogweno, the gold miner, who was trapped inside Kapuodho goldmine in Rongo Constituency in Migori County for 72 hours, believes God rescued him.
He is still in disbelief at how he managed to come out of the mining site alive and with no injuries.
Owuor, 23, who is an orphan, entered the goldmine on Thursday afternoon in a normal routine at around 2pm, only for it to collapse above him just 15 minutes after he started working.
On realising that he was in trouble, he tried to shout for help, but no one could hear him.
" I could hear people talking outside the goldmine since where I was, I was safe but they could not hear me. I had not carried my phone since the place does not have any network. I could not communicate with those on the outside," said Owuor.
He said he only hoped for the best.
"I started praying and asked God to preserve my life. I also repented my sins and I made a vow I would serve God if He rescued me," he said.
Luckily, his prayers were answered and he was rescued.
Owuor was rushed to Tabaka Mission Hospital in Kisii County on Sunday afternoon after being rescued.
He was treated and discharged since he did not have any injuries but suffered from fatigue caused by hunger and thirst.
Owuor noted that God had given him a second chance to live and it is a miracle how he survived for 72 hours without eating any food or drinking any water.
He revealed he has no plans of going back to mining gold since he believes it was a sign from God.
Owuor now wants the government to provide modern equipment to the gold miners, who depend on the risky job to feed their families.
"Most gold miners work in deplorable conditions since their families depend on them. I am appealing to our government to provide modern equipment and safety gear to the miners to enhance their safety," said Owuor.
Eric Ngwala, a gold miner, said they have never experienced such an incident.
" This is the first time someone has been trapped inside this Kapuodho goldmine. We are happy our colleague is safe and sound. It is a miracle," he said.
Ngwala said that what happened to Owuor should be an indication that something needs to be done to ensure safety at the sites.
"Mining sites accidents have become common. The national government should ensure the safety of the workers. It is a sad state of affairs. We cannot continue losing people who have young families to accidents that can be avoided," said Ngwala.
Speaking to The Standard, Owuor's brother, Duncan Onyango, said that he spent the entire three days at the gold mining site in the hope that their brother would come out alive.
"It was a tough time for our family. We were worried and prayed that he comes out alive. We couldn't imagine losing him, bearing in mind that our parents died a few years ago. We are happy that he survived and this is a celebration," he said.
Juliet Obuotho, an aunt to Owuor, thanked Migori Governor Okoth Obado and Rongo MP Paul Abuor for their support to ensure that the operation was a success.
She said that the fact that Owuor survived the three days ordeal means that God has a purpose in his life that he must accomplish.