The man Kenya forgot: Miner Tom Okwach's family painful cry 37 days later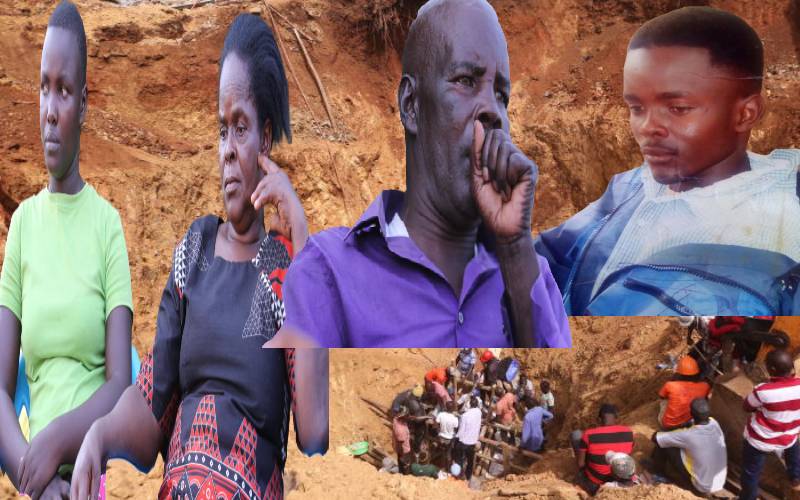 Jackline Okwach stares at a pile of debris with her hands tightly gripped on her cheeks, overwhelmed with sorrow as a lone excavator slowly makes its way into a mine where her husband, Tom Okwach, lies trapped.
A relative continually wipes off her tears using a scarf. Jackline is too distraught to speak.
Next to her is Okwach's mother Joyce Ocholla. Jackline's mother-in-law is also drenched in agony. She is in deep thought as two women console her, assuring her all will be well.
Over the last 37 days, it has been a nightmare for the family after Okwach was trapped in a gold mine shaft in Abimbo, Siaya County. Six other gold miners who had been working with Okwach were rescued alive.
His family continues to wait with unrelenting optimism that their loved one, who they now believe is dead, will be retrieved.
The family said it was looking forward to the day when they would find Okwach to end their agony.
Several rescue workers have left the site, as have many friends who had offered the family solace and support. The government, too, left after a fruitless search mission for Okwach, the miner the country appears to have forgotten.
Only their faith of seeing the remains of their kin and according him a decent send-off remains for Okwach's family.
A well-wisher, Andiwo Mwai, hired an excavator on Saturday for 48 hours to help with the search. But what if he is not found within that period?
Before the excavator made its way to the site, activities at the mine had gone silent. The huge crowd that had provided the family with comfort also left.
In areas around the mine, life appears to have gone back to normal. Humming sounds of machines crushing rocks in search of gold can be heard. Women, busy panning heaps of soil in search of the precious metal from earth dug from the collapsed cave in search of Okwach, can also be seen.
Members of Okwach's family, however, are emotionally drained, hungry and tired.
The family's deep pain is clearly evident. Red, teary eyes and dried tears on their faces can be seen as they struggle with the aftermath of the devastating tragedy.
"I do not know what I ever did to deserve this," Ms Ocholla, Okwach's mother, says amid sobs.
The probable loss of her son has been too much for the distraught mother to handle.
A small tree next to the collapsed mine that shields them from the hot sun's rays has been the family's new home as they wait for the recovery of their kin.
"At night, the place is extremely dark and full of mosquitos. All our nights here have been sleepless. At times, we are rained on when it pours but I will stay here until my son is found," she says.
Inside the cave, only the lone excavator operator was working as he carefully removed soil as the search mission entered its second month. There are lingering doubts about the success of the latest effort to find Okwach.
Last month, excavators that were helping in the rescue operation were withdrawn. Okwach's family has accused the government of neglecting them.
Local rescuers also left after the mine collapsed again as the search was going on. Loose rocks have complicated the mission as they keep falling.
One of those still in the search mission told Sunday Standard that they believe Okwach is trapped in an L-shaped crevice christened by miners as "number seven". He said the fissure is risky because loose rocks keep falling.
"The rocks are loose and the process now requires specialised skills and equipment," he said.
The family says they received some help from the government in the initial stages of the rescue. However, they have plunged into debt as they battle to hire local rescuers after the government abandoned them.
Okwach's father, Martin Shikuku, says he has accrued Sh70,000 debt in hiring rescuers.
"It is not easy for us as a family. We have tried our best. We will stay at the mine until we find him," says Shikuku.
Okwach's sister Janet Atieno says they are now stranded and unable to cater for the cost of searching for him.
"We had hired an excavator to help in the search. However, the services were cut off last week because we've not paid," she said.
Her brother, Stephen Aliwa, says they need about Sh130,000 to continue with the search to a logical conclusion.
National and county government officials have, however, remained mum on Okwach's fate, and the frequent visits that they initially made to the site have stopped.
However, Bondo Sub-County Deputy Commissioner Richard Karani denied that the government had abandoned Okwach's family. He said the government was still mobilising resources.
"Every partner is playing their role and we are providing security and also helping with the search for the remains," said Karani.
(Additional reporting by Isaiah Gwengi)