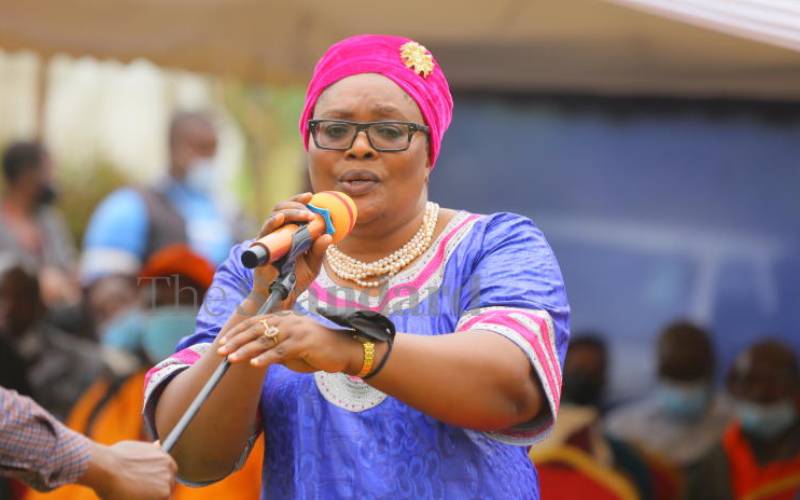 Women political leaders from Kisii region continue to suffer poll losses and numbers of elected women leaders remain dismally low even from the recent elections.
The insertion of a provision in the 2010 Constitution that states, "No more than two-thirds of those elected or appointed in public offices shall be of the same gender" has done little to change things in the past two general elections.
Kisii and Nyamira have only had two women elected to the competitive seats other than the affirmative or special gender positions of the Woman Member of the National Assembly.
Ahead of the 2022 politics, two women have shown interest to succeed Kisii Governor James Ongwae. None has shown interest in the senate seat.
However, Kisii Woman Representative Janet Ongera argues that theirs is not to fight their male counterparts but to entrench accountability and end the long perceived patriarchal politics in the region.
An ODM staunch supporter, Ongera admits that the journey has been long. "It wasn't even possible to announce that a woman candidate was ready to vie. The community now appreciates the fact that we can have women leaders across all political seats."
She says through the years; she has earned experience that could enable her to manage the county.
"We have fought for our space and we appreciate the support we have received from across the board. Patriarchal politics is primitive and we should shun it in totality," she said.
She added: "I call for sobriety even as we choose those who will lead us ahead of the elections. I am calling on the electorates in Kisii to keenly examine the track record of each of the aspiring governors and pick the best."
"Time has come for us to check what our leaders have done over the last five years. Let us examine their development agenda and how they executed it and pick only those who have good track records. I pledge better leadership and economic prosperity for our county," said Ong'era.
Ms Ong'era intends to vie for the seat on ODM ticket and she will be battling it out for the Orange party's endorsement against area Senator Sam Ongeri and Dagoreti North MP Simba Arati, among others.