She taught me love, Tuju eulogises his mum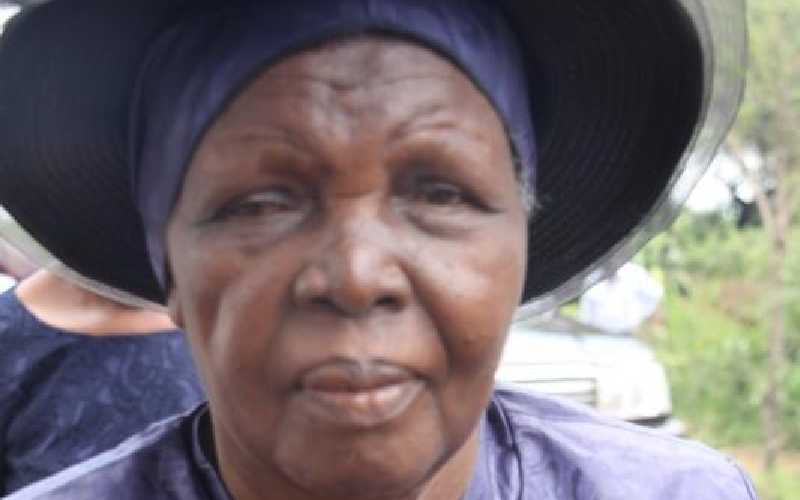 There is a lingering emptiness in Jubilee Secretary General Raphael Tuju's home. It hangs heavy in the room that served as a makeshift hospital where Tuju's mother, Mary Ogola Odiyo Tuju, was receiving care for the past month.
Mama Mary died on Thursday aged 87 after being on life support for 56 days.
She had been hospitalised for over two months, suffering from osteoporosis, a medical condition in which the bones become brittle and fragile from loss of tissue, typically as a result of hormonal changes or deficiency of calcium or vitamin D.
Osteoporosis affects both genders but older women who are past menopause are at the highest risk.
Mama Mary's picture hangs on the wall in the sitting room, staring at us, as Tuju's shaky voice pierces through the silence with poignant memories of her.
In mourning his mother, the former Rarieda MP is also celebrating the extraordinary resilience that saw her overcome the early loss of her parents and survive by her sheer will and the goodness of relatives.
Tuju says in his mother's death lies stories about hope? and multiplicity of life. He says his mother, who will be laid to rest on Saturday at Ralingo village in Rarieda, Siaya County, was orphaned at a tender age of five years.
"Her mother died while giving birth to her second born and the father died three years later from a bout of malaria. With no one to care for her, she survived through the alms of relatives and true to the tenacity of life, she grew to give life to a generation," he says.
Mama Mary's case was exacerbated by Covid-19 that hit her mid this year. Although she got cured, it left her with periodic convulsions.
Tuju says he learned from her to be compassionate and independent-minded and acquired business skills at a young age.
"I am who I am because of her. Having grown up as an orphan, she began to care for tens of other orphans and gave them refuge at her home. She would also feed strangers who would pass by her home, and I have learned to give through her interactions in life," he says.
As a way of giving back to society, the Cabinet Secretary without portfolio is asking friends who would like to contribute as part of support and condoling with the family to channel the funds to Tree Lane Foundation, M-Pesa paybill: 880100, Account: 1004600971.
He says the funds will go into supporting needy girls' education across the country.
Tuju says his mother wanted him to be a priest when he finished school at Starehe Boys Centre.
"She had lost a child before me and another after me. I think she wanted to make a compromise to God to spare me. She repeated her wish for me to get into priesthood when I was involved in a plane crash in Busia," he recalls.
There was a prayer session at his Karen home and there will be a requiem mass on Friday at All Saints Cathedral Nairobi before the body is flown to her rural home for burial.