Reckless operators warned as Lake Victoria boat tragedy victims mourned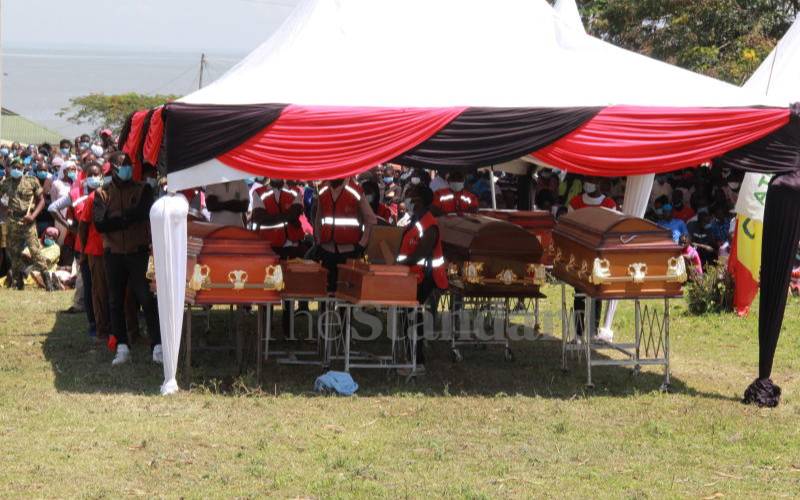 Transport operators in Lake Victoria have been accused of recklessness.
The archbishop of the Independent Kristo Church of East Africa Rev Vincent Arogo expressed concern that the boat capsized killing 10 people a week ago was overloaded.
The church lost six members in the accident.
Speaking yesterday during a funeral service, he said the accident would have been avoided had the boat operators complied with maritime safety measures.
"We don't fear death but you cannot load a boat with bags of cement, iron sheet, timber, other goods and people then you expect it to arrive at the intended destination. Never," said Arogo
Homa Bay Governor Cyprian Awiti, his deputy Hamilton Orata and County Commissioner Moses Lilan also hit out at some of the operators.
"We have realised that there is a lot of safety violation in Lake Victoria, which we are not going to allow anymore," Lilan said.
The administrator said he is working with the Kenya Coast Guard Service and the Kenya Maritime Authority to ensure compliance.
The measures include ensuring that all passengers in a boat have life-saving jackets. Boats must carry the required number of passengers, while coxswains must undergo certified training. Nobody is allowed to travel when drunk.
The measures will be implemented by the Kenya Coast Guard Service officials who will be patrolling the lake.
"Any boat proprietor who cannot comply with the maritime rules should shift to another business. All coxswains must undergo training from the accredited institution," Lilan said.
He said anybody found violating the rules will face the law.
Governor Awiti urged the authorities to ruthlessly enforce the regulations. "We do not want to lose any more lives in this lake. Let the rules stipulated by the government be fully implemented," said Awiti.
Orata said boat operators who do not want to comply with the safety measures should be denied business permits.
"It is better to deny someone a business permit than make them operate boats which cause deaths in our lake," Orata said.
The deputy governor urged insurance companies to design packages for the vessels as well as passengers.
Those who died were travelling from Pier Beach in Homa Bay town to Ndhuru Beach in Mbita Sub-county.