Residents torch homes of robbery suspects in Migori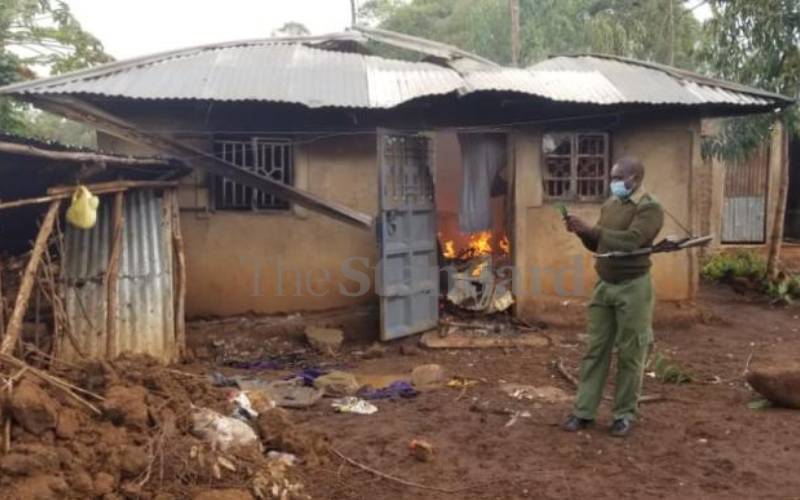 Residents of Kakrao village in Migori County on Thursday burnt down houses belonging to three robbery with violence suspects alleged to have been raiding shops and churches in Migori town. Residents armed with fuel and crude weapons also broke into a fourth suspect's house, took out his belongings and burnt them.
The residents' actions followed the arrests of five suspects who were arraigned in court on Thursday. According to Charles Lokoye, the Kakrao Boda Boda chairman, the suspects have been involved in a series of crimes in the area.
"We call on the police and the judicial system not to release the suspects on bond as tension is still high," Lokoye said. Migori county police commander Mark Wanjala said police patrols had been increased in the area to avoid further tension.
"We will ensure peace prevails in the area as police have launched investigations not only on a recent shop break-in where the suspects were arrested but also some three murders in the area," Wanjala said.
In June, two bodies were picked from the area, including that of a woman which was found dumped in a swamp. The body of Kevin Owuor, a teacher, was found meters away from his home. A resident, Charles Ameso, said they have been living in fear and were shocked when CCTV footage showed that their neighbours were involved in theft at a shop in Kakrao in the outskirts of Migori town.
Police on Wednesday rescued one of the suspects from being lynched by an angry mob that descended on him with crude weapons after he was identified from videos captured on CCTV.
On Thursday, the five suspects were arraigned before a Senior Principal Magistrate's Court in Migori.
During the Tuesday night raid, a watchman manning a supermarket next to the shop sustained head and back injuries after he was attacked with machetes.
The five failed to take a plea after the prosecution, led by the investigative officer Peter Makemba, asked for more time to complete investigations.
The prosecution was granted seven days to complete investigations and apprehend more suspects connected to the spate of robberies in the area.
The suspects will appear in court on September 15.