Airstrip hands lifeline to tourism in Covid period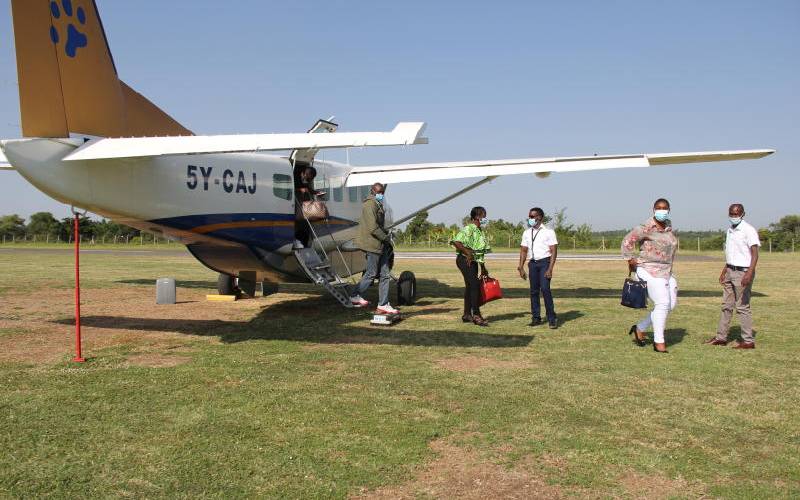 The revival of Kabunde Airstrip in Homa Bay County has been seen as a major boost to the tourism sector in western Kenya.
The airstrip situated along the Homa Bay–Rongo road was opened in January 2016 in a ceremony graced by ODM leader Raila Odinga.
Since its opening, the airstrip has suffered many hitches. Passengers could not get services after airlines that used to operate discontinued services.
But thanks to ongoing efforts to revive the airstrip, an aircraft now operates from the facility.
Owned by Mombasa Air Safari in collaboration with Great Airways Limited, the aircraft commenced services in June this year. With a capacity of 13 passengers, it operates between Wilson Airport in Nairobi and Kabunde Air Strip.
Fredrick Onyango of Mombasa Air Safari said they are offering two flights in a week. Onyango said they temporarily reduced flights due to low passenger numbers.
But now, he says, there has been an improvement.
"Today is Tuesday but our flight for Friday is already fully booked. The number of clients has kept rising and we are looking forward to resuming Wednesday and Sunday flights mid this month," Onyango said.
Another company, Mass Class Air, has joined Mombasa Air Safari in partnership for cargo transport between Homa Bay and Nairobi.
Mass Class Air CEO Zephaniah Sylvester said they will be starting cargo transport next week.
Moses Buriri, the Homa Bay County Chief Officer for Sports, Tourism and Culture, said the airstrip has significantly supported the tourism sector in the region.
Buriri said the number of tourists had increased since the revival of the airstrip. The tourists visit Ruma National Park and other tourist attraction sites along the shores of Lake Victoria.
"Despite the Covid-19 pandemic, the airstrip has improved the number of tourists in this county," Bururi said.
He said the improved tourism in the region led to the county being picked to host the National Beach Volleyball Competition which will be held in October.
"The Kenya Volleyball Federation has identified our county for the event and this is because the airstrip has opened Homa Bay for tourism and sporting activities," said Buriri.
He urged Homa Bay residents to utilise the airstrip to grow economically.
"This airstrip has also created jobs. More importantly, it can create an enabling environment for business that can help traders grow financially," the Chief Officer added.
Peter Sweetnam is the head of the Projects and Technical department at Premier Solar, a company that installs solar systems.
Sweetnam is among many people whose lives are being transformed by the airstrip.
Sweetnam began touring Homa Bay County in 2015 for purposes of installing solar systems. During that time, he had difficulties visiting the area from Nairobi.
He had to travel to Kisumu International Airport from where he could take a vehicle to Homa Bay County. The journey from Kisumu to Homa Bay used to take him more than two hours.
"I used to spend a lot of time travelling between Nairobi and Homa Bay because I had to land at Kisumu Airport first," Sweetnam said.
"Today, it takes me a few minutes to travel to Homa Bay County," said Sweetnam.