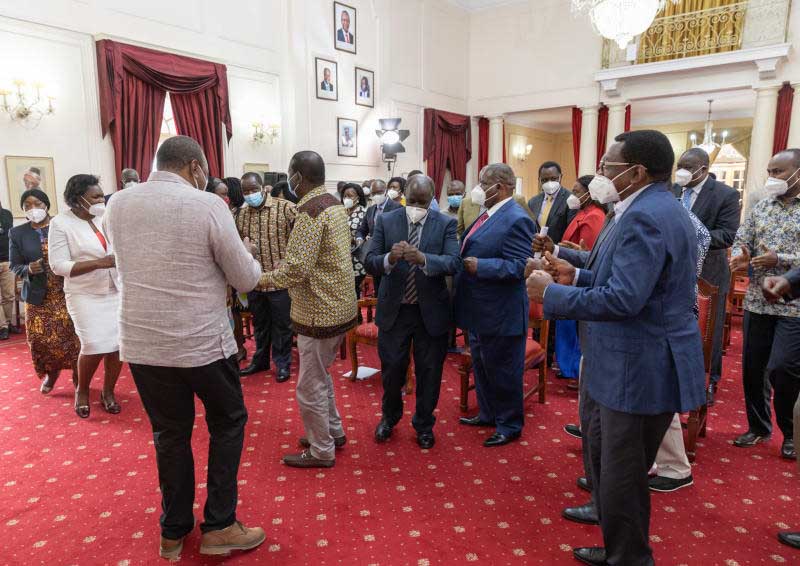 President Uhuru Kenyatta yesterday unveiled the bag of goodies he will be taking to Nyanza ahead of his tour of the region, which is expected to start tomorrow.
During a meeting at State House, Nairobi, which was also attended by his Handshake partner Raila Odinga, the Head of State rallied support from local leaders, which is key as he navigates the remaining months of his term.
He released a long list of projects earmarked for launching and groundbreaking in Kisumu, Siaya, Homa Bay and Migori, chief among them the revitalisation of the Sh3 billion Kisumu Port, Uhuru Business Park and Marketing Complex, Simu Inland Container Depot, Lake Basin Mall and the revival of the Kisumu-Nakuru railway.
The morning meeting also agreed on a number of issues to be addressed in the region with the leaders taking the opportunity to give the president their lists on some of the projects they would wanted initiated or completed within the next 14 months.
This will be the fifth time Uhuru is visiting Nyanza after the famous rapprochement between him and Raila in March 2018.
Immediately after the meeting, Raila and Kisumu Governor Anyang Nyong'o flew to Kisumu ahead of Tuesday's Madaraka Day celebrations.
Yesterday's meeting also came at a time when rejection of the Building Bridges Initiative (BBI) by the High Court, has jolted his administration.
The courts have also termed Uhuru's appointment of Chief Administrative Secretaries and parastatal chiefs irregular.
Uhuru's Jubilee Party has also suffered defeats in recent by-elections in Juja, Bonchari and Rurii with the party rebels now affiliated to UDA party, opening an all-out war with the ruling outfit.
The president told the leaders that he was determined to leave a strong, united and prosperous country, adding that together with Raila, they had resolved to pursue the dreams of Kenya's founding fathers.
"My brother (Hon Raila Odinga) and I are focused on leaving a legacy where young people have steady jobs, and are able to access basics needs and become a country where all citizens are proud to be Kenyans," President Kenyatta said.
He pointed out that for far too long bad politics had derailed the country from achieving its development agenda, creating challenges that the president said can be resolved by leaders coming together for the sake of wananchi.
"Kenya is about all of us. Kenya cannot succeed without all of us. It needs all of us. This is to me the spirit of handshake. If it was about two individuals, we would not have reached where we are.
"It is not about two people rather it is about bringing the country back on track. It is about bringing the people of a nation to feel once again that they are part and parcel of a home," he said.
Uhuru has been counting on the support of his former foes-turned-allies from ODM both in and out of Parliament as he seeks to implement his plans and cement his legacy.
To reciprocate, Uhuru promised completion of projects initiated in Nyanza.
His meeting with ODM leaders also come hot on the heels of claims by party stalwarts that some Harambee House mandarins were keen on scuttling the Handshake and preventing Raila from succeeding Uhuru as president in 2022.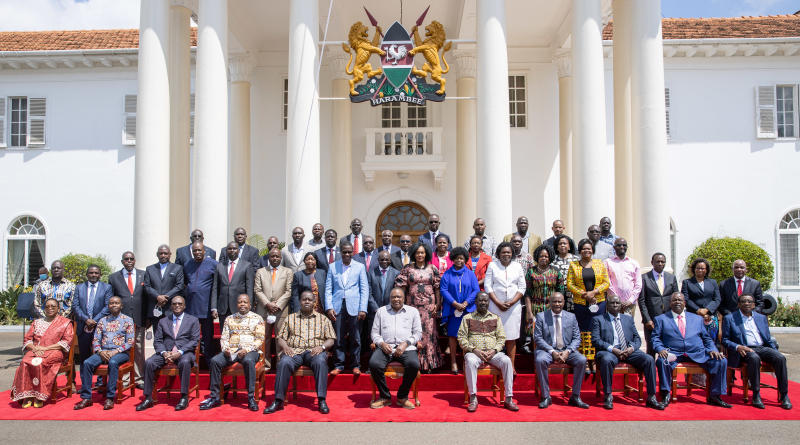 Yesterday, Uhuru and Raila sought to quell the cold war between the Handshake partners and promised to ensure that all the mega development projects initiated in Nyanza are completed.
The president was also optimistic of starting other multi-billion shilling projects whose blueprint is projected to rapidly transform the economy that has been in a lull for several years.
Most projects came as a result of the Handshake and contractors are racing against time to complete them.
In the closed-door meeting described by attendees as "highly fruitful", an upbeat president outlined his development ambitions for Nyanza and Western Kenya as a whole.
His main focus, they said, is to ensure all projects he has initiated are completed.
Transform the region
Although some of Raila's foot soldiers had expected the 2022 succession to be part of the agenda, the talks centred on development and Madaraka Day celebrations.
Seme MP James Nyikal, who chairs the Luo MPs Caucus, said the main topic was on the need to transform Nyanza.
"The president has given us his word that all projects started in Nyanza will be completed. The discussions were fruitful and the president treated us with a lot of respect," Nyikal said.
Some of the major projects include revival of the railway line and the blue economy.
"The president gave us his word, and we are happy with the progress he has made to transform the region's economy," said Nyikal.
With only a single budget to handle before the end of his term, there has been concern some 'Handshake' projects may stall, but the president vowed to fulfill all his promises.
He instructed the senior government officials, including several Cabinet and Principal secretaries, present to ensure they are implemented.
They include construction of the 470km Ring Road along the shores of Lake Victoria at a cost of Sh70 billion.
[Additional reporting by Anne Atieno]