Terror suspects moved to city for further probe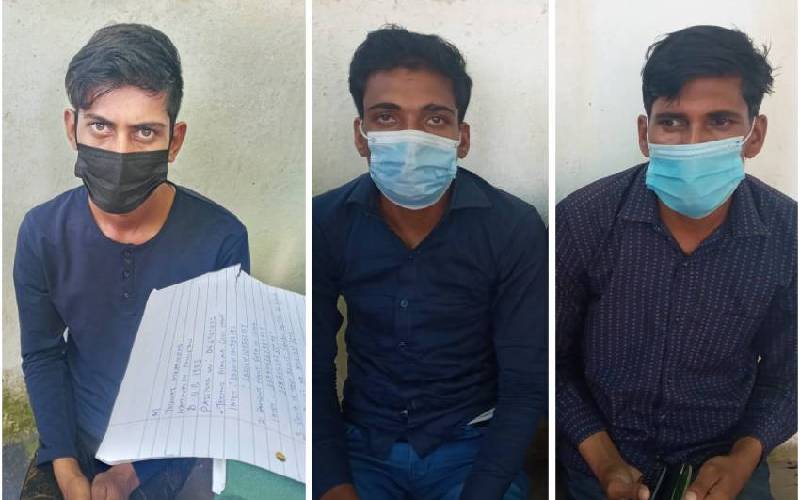 Five suspected terrorists arrested in Kisumu on Sunday have been transferred to Nairobi as detectives move to finalise investigations.
On Monday, a Kisumu court granted the police 10 more days to continue holding the suspects for interrogation.
Yesterday, detectives from the Anti-Terror Police Unit drove the suspects to their headquarters at the Directorate of Criminal Investigations for further questioning.
The suspects are Jamal Muhamud, Abdul Razzaq, Nadeed Muhammad, Amin Muhammad and Younas Muhammad, all of Pakistani origin.
A detective privy to the investigations said that the suspects had travelled in two groups through the Kenya-Uganda border.
They used Pakistani passports.
The suspects had done their best to shake off police officers before hawk-eyed officers nabbed two of them in Kombewa in Kisumu following a tip-off.
An interrogation of the suspects established that another group had also made its way in to Kenya and was on its way to Kericho.
This prompted police officers to mount a roadblock at Ahero and searched all vehicles from Kisumu.
"They were keen on escaping and even alighted at Ahero and started walking back when they learnt officers were on their trail," said a detective privy to the investigations.
The detectives are also probing some of the people they might have contacted.
It is unclear whether they had intentions of carrying out attacks but the police indicated that their behaviour and some of the items they had aroused suspicion
A detective involved in the case said the suspects were found with "many" telephone gadgets and military regalia.
Yesterday, Kisumu County Commander Samuel Anampiu confirmed the suspects had been transferred to Nairobi.
"We transferred them to Nairobi for ease and convenience of processing," said Anampiu.
Harold Odhiambo