Mama Keziah Obama laid to rest at her Kogelo home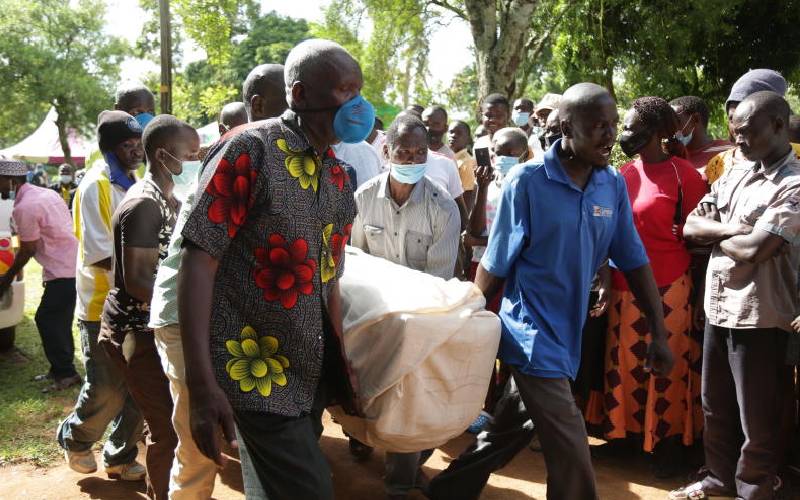 The late Keziah Obama has today been laid to rest at her Kogelo village in Siaya county.
The late Keziah was the mother of former US President Barack Obama's half-brother, Malik Abong'o Obama.
She died on April 13, 2021, while receiving treatment at a UK-based hospital.
Mama Keziah was the spouse of the late Barack Obama senior. She was 78 years at the time of her death.
Her body arrived in Kenya on Friday morning before it was transported to Kogelo where she was buried.
Malik, who is the eldest son while speaking on behalf of the family eulogised his mother as a loving and responsible woman.
Among leaders who attended the burial were; Siaya Deputy Governor James Okumbe, Senator James Orengo and Rarieda MP Otiende Amollo.
Speakers eulogised mama Keziah as an inspiring woman, who had brought up a great family.
Orengo said his relationship with the Obama family dates back to the years when Senior Barack Obama was alive.
He described the late Senior Obama as a reputable economist.
Orengo said the late Senior Obama was among the team of economic specialists who worked on the sessional paper number 10 of 1969 that guided the development of Kenya for decades.
"He was a great scholar who did his studies in several universities and later returned to Kenya where he worked as an economist in the Ministry of economic planning. He worked with other great ministers who were also my friends like the late Tom Mboya," he said.
MP Otiende said the Obama family has elevated Kenya to the international map by producing the first black president in the US.
"This is one family that has given us so much pride. We are on the international map because of them. Their son, former US President Obama put us on an international map," noted Otiende.
Deputy Governor Okumbe also described the Obama's as a great family that had uplifted not only the image of the country but Siaya county as well.
Okumbe said he is a friend to the family through Auma Obama who was his great friend.
"Auma and I have done a lot of development projects, especially for the Kogelo family. She has always invited me for her functions for the community where she gives back through projects," added Okumbe.
The late Mama Keziah was buried a few minutes after 1pm in accordance with the Muslim rites.