Homa Bay laboratory officers end strike after fruitful talks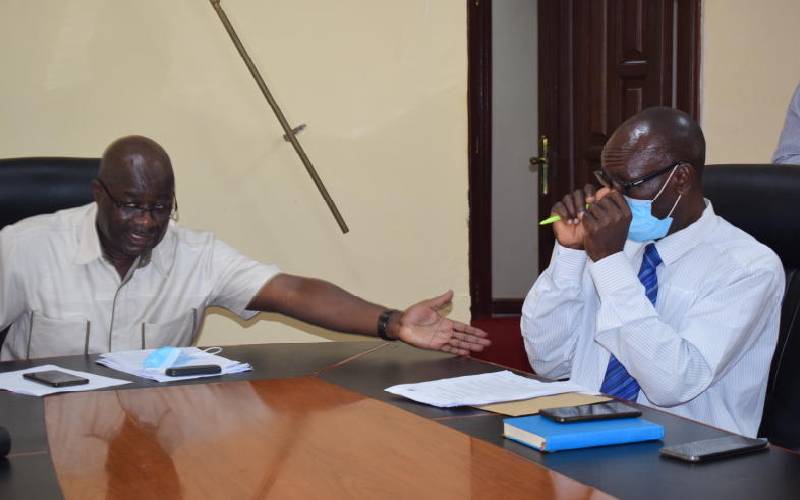 Patients seeking diagnosis at public health facilities in Homa Bay County have a sigh of relief after medical laboratory officers ended their strike.
Through the Kenya Union of Medical Laboratory Officers (KUMLO), the medics called off the strike which started on January 6 after signing a return to work agreement with the County Secretary (CS) Isaiah Ogwe who was accompanied by the Health chief officer Gerald Akeche.
The officers downed their tools over a number of grievances including failure by the county to recognise their union, lack of promotion and lack of Personal Protective Equipment (PPEs).
Speaking at the county headquarters on Friday, Homa Bay KUMLO secretary Joseph Opondo said they had agreed with the county government on how to address their grievances.
"Recognition of our union, provision of the PPEs and promotion were our main grievances but the county has agreed to address them as soon as possible," said Opondo.
He said the county had agreed to enrol all of them for comprehensive life insurance and provide them with free dust coats at the beginning of the next financial year.
"I declare that the medical laboratory officers' strike has come to an end today. All officers should report to work within the next 48 hours," he directed.
Ogwe said none of the health workers will be victimised for participating in the industrial action.
"We have held a successful discussion with the union officials and we are happy as a county that our people are going to get better medical care," Ogwe said.
He said the resumption of duty by the officers will enhance the provision of complete health services in the county's health facilities.
Ogwe said laboratory services are very essential for the provision of health services.
"Diagnosis which takes place in the laboratory is very significant in addressing health issues. Even though our doctors and nurses have resumed their duties, health services still had serious hitches because it is difficult to treat a disease which has not been diagnosed," Ogwe said.
This comes after nurses and doctors also terminated their strike.
Termination of the strike gave the county residents confidence in seeking health services in public health facilities in the county.