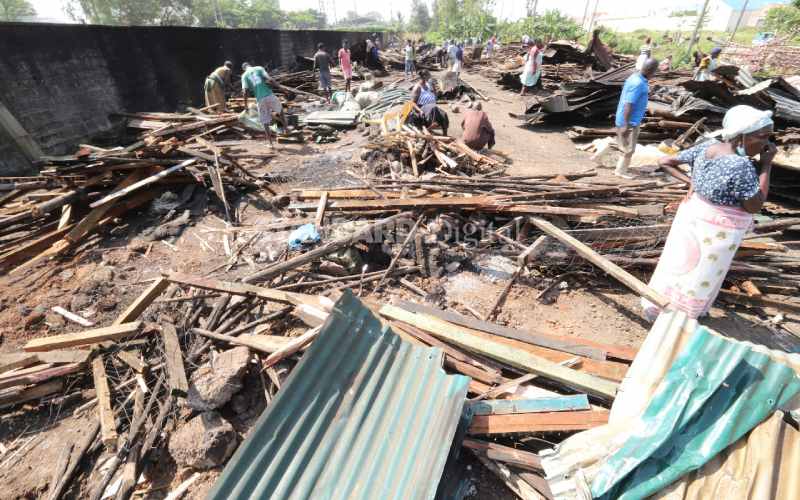 Traders at Obunga fish market in Kisumu on Friday tried to salvage what remained of their stalls after the Kisumu County government bulldozers descended on the market.
It is famous for the "Mgongo wazi" fish in the town.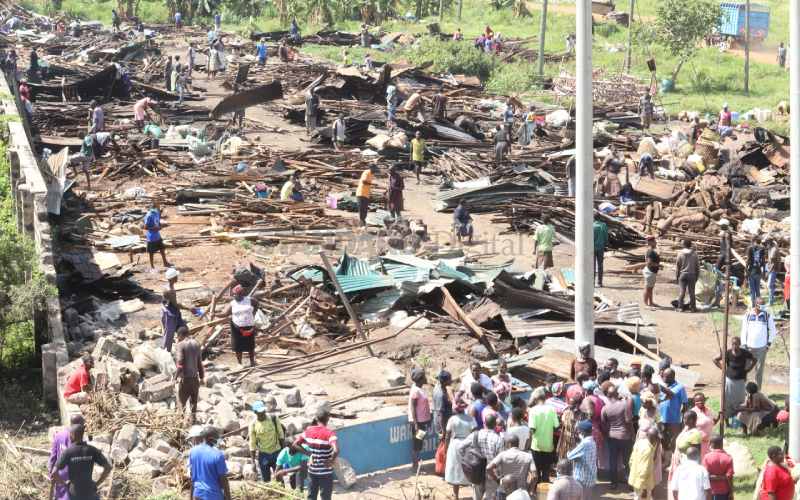 The market is one of the many business areas in Kisumu that have been affected by either sprucing up Kisumu off shanties or the railway line rehabilitation.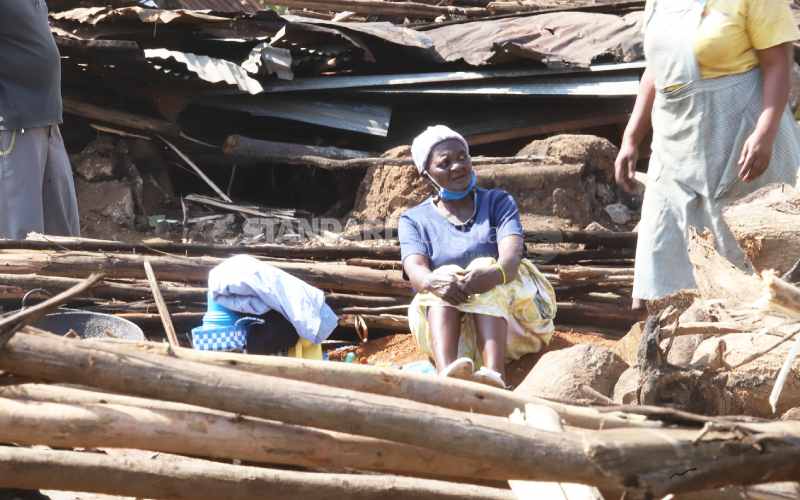 Kisumu, Kenya's third largest city is staring at sluggish economic growth and worsening unemployment following demolition of small scale business premises.
Business analysts now say the lakeside city, in the news because of the Sh3 billion port expansion, may take longer to recover following massive disruption of business.
Hundreds of middle level and small scale business owners lost their source of livelihood after their business premises were demolished to recover land grabbed from the Kenya Railways Corporation.
It has emerged that uncertainty on the date of opening of the port, lack of alternative areas of operation for traders, budget stalemate as well as stalled modernisation of key markets could further affect growth of the economy.
When the rebirth of Kisumu started about a year ago, many were optimistic that the developments would offer them a new lifeline.
Still several businesses across the town have been on the recovery path after struggling to overcome the devastating effects of the 2017 elections.
But demolitions have sent traders back to the drawing board.
Kibuye, Otonglo and Jubilee markets which were expected to accommodate tens of traders have been dogged by controversy.
Interestingly, the budget for the 2019 financial year was in limbo after Governor Anyang' Nyong'o rejected the amendments made by the county assembly.
The county government could not provide alternative places for the traders to operate.
Traders who spoke to the Standard accused the county government of taking advantage of the port rebirth to frustrate business in Kisumu.
"The fact that they did not give the traders notice and have not factored in construction of stalls in the budget is enough to tell you the fate of this economy in the next one year," said Brian Okello, a trader.
Mohamed Kafa, a trader whose stall was also brought down along Akamba line said he will have to reconsider investing in the lakeside city again.
"I lost property during protests in 2017 after the General Election and just when I started making a comeback, my stall was brought down," said Kafa.
Residents are wondering whether the jobs that have been projected to be created by the expansion of the port will surpass the ones that have been destroyed by the demolitions.