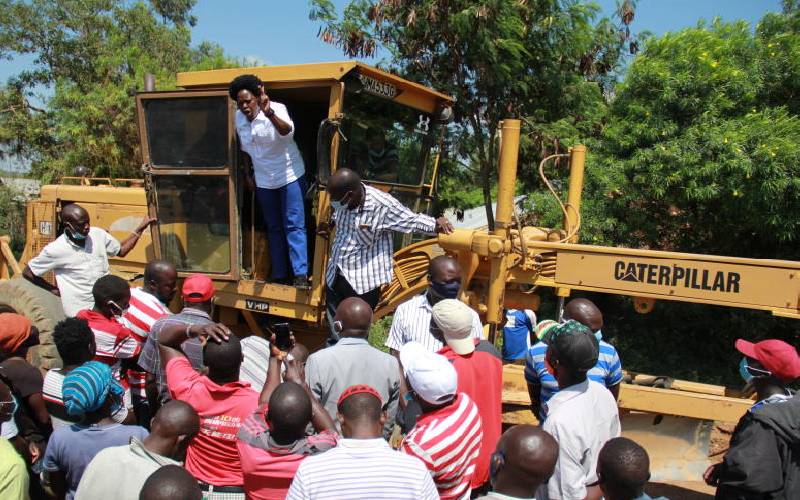 Rangwe MP Lilian Gogo has clashed with Homa Bay Woman Rep Gladys Wanga over the implementation of the National Government development projects in the area.
Gogo accused Wanga of claiming and launching projects undertaken by her office for political reasons.
Trouble started after Wanga visited Kochia Ward in Rangwe on Saturday and reportedly launched a road and water projects which the MP said were being undertaken by her office.
Read More
Speaking when she toured the Olare–Mariwa Road and Lwaho Water projects in Kochia ward, few hours after Wanga had left, Gogo told Wanga to stop undermining her work as area MP.
She argued that Wanga had formed a tendency of launching projects which she (Gogo) lobbied for from the National Government for her personal interest.
"It is wrong that the construction of one road has been launched today by two MPs. I am the one who lobbied for this project, I am surprised Wanga is launching it behind my back," Gogo said.
The Rangwe MP accused the Woman Rep of taking credit with Lwaho Water Project which she (Gogo) had also lobbied for from the government.
Gogo said she will not allow Wanga to take credit with projects she had lobbied for.
"I have noticed a similar problem in other projects but I kept quiet. I have decided to break the silence because it has become too much," Gogo added.
She called for peace and respect to enable them to deliver services effectively.
"It is not yet time for politics and this is time for service delivery. As leaders, let us give each other ample time to serve the people so that we can have peaceful co-existence in Rangwe," said Gogo.
Wanga had toured the road on Saturday morning where she addressed residents and reportedly told them that she lobbied for the construction of the road from the National Government.
Wanga accused Gogo of levelling false accusations against her.
She also said she is the one who lobbied for the construction of the road using a letter she addressed to Transport CS James Macharia on May 11, 2020.
She argued that she is the one who lobbied for the construction of the water project.
"I have letters to prove I am the one who mobilised for the projects from the National Government. Even an official from the Ministry of Water has confirmed my efforts in lobbying for the water project. But I am not interested in taking credit because they are meant for the people," Wanga said.
She, however, denied launching construction of the road.
"I just passed by for a short time to see what the contractor is doing before I left in about five minutes but I did not launch the project," Wanga said.
Construction of the 3.4 km road is undertaken by the Kenya Rural Roads Authority (KRRA) at Sh6.5 million. Repair of the road which started on Saturday involves excavation and sealing it with gravel.
Both leaders hail from Rangwe constituency.
Gogo is defending her seat while Wanga is eyeing Homa Bay gubernatorial post in 2020.