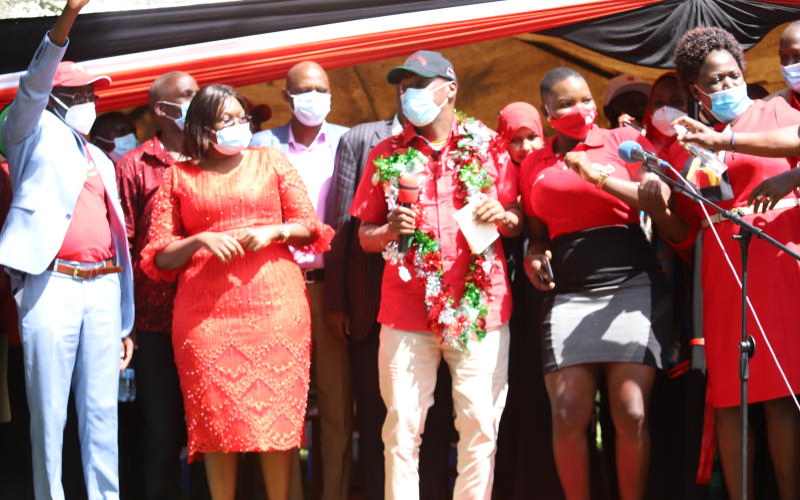 Baringo Senator Gideon Moi says the Building Bridges Initiative (BBI) will herald a new democratic, peaceful, united and prosperous Kenya.
While urging wananchi to back the call for a referendum, the Kanu chairman likened critics of BBI to "desperate merchants of doom".
"I have read and can affirm to you that the contents of BBI are good. It takes care of every facet of the Kenyan society," he said.
Gideon, who was in Migori to open a new Kanu office and inaugurate branch officials, seized the moment to popularise the independence party and reassure its members that the outfit had been revitalised.
"We have come here to revamp Kanu, drum up support for BBI and encourage people to register en-masse to support Kanu and BBI," he said.
Read More
Gideon said the Constitutional (Amendment) Bill 2020 will promote national inclusivity, gender parity, equal opportunities, shared prosperity and equitable redistribution of resources.
He showered President Uhuru Kenyatta and ODM leader Raila Odinga with praises, saying they had put the interest of Kenya ahead of their own.
"They created the BBI as the country was teetering on the precipice. This is why for me the BBI Bill is a must support," he said.
In the BBI proposals, the Executive will be represented in the National Assembly by the prime minister, two deputy prime ministers, Cabinet ministers and the Attorney General. The BBI Bill proposes to amend Article 152 of the Constitution to provide a mixed Cabinet, with some members being drawn from the National Assembly.
Former Internal Security Minister Julius Sunkuli also backed the BBI Bill and asked Kenyans to log into the internet and append their signatures.
Proponents of BBI want to collect at least four million signatures in seven days.
Senator Gideon later distributed physical copies of the BBI Bill to the delegates.
Sunkuli said the amendment of Article 108 on Order of Precedence in the National Assembly to include the post of prime minister and official opposition leader was welcome.
Tiaty MP William Kamket rooted for a Raila-Gideon pair for the presidency in the 2022 General Election.
"I would love to see a Luo president. Let Gideon and Raila sit and agree who becomes the president and who deputises who, as the rest can share the remaining slots," Kamket said.
He said Deputy President William Ruto's team had run short of viable ideas to offer Kenyans and that is why they had opted for a non-contested referendum.
Gideon said where Kenya had reached there was no turning back.
"We don't want that after every five-year electoral cycle, Kenya burns because of ethnic division and cleavages. This is why we as Kanu say thumbs up to the president and Raila and all other opposition leaders who have thrown their weight behind this BBI discourse," he said.
Amb Wilfred Machage's brother Sospeter Machage, said a Raila-Gideon ticket would be a sure bet.
"We hear in Rift Valley you are divided into two camps. Nyanza we are solidly united behind Raila and we want the two of you to pair for the common good of all Kenyans," said Machage.