Lawyer launches Sh7m water project in Homa Bay town amid cries of shortage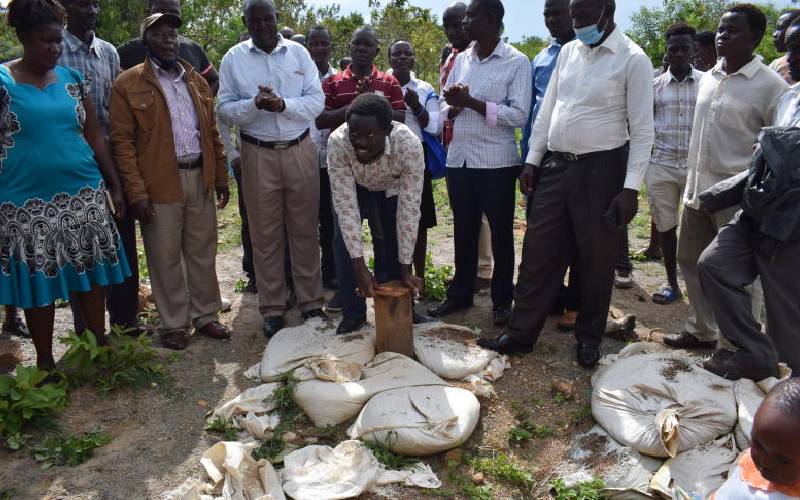 More than 4000 households in Homa Bay town constituency will be cushioned from acute water shortage after a lawyer George Miyare launched a Sh7 million water project in the area.
The programme christened Matoma Community Water Project is being implemented at Masakla Catholic Church in Kothidha Location.
The programme is being funded by Miyare who is a resident of the area and is expected to produce 6.4 cubic metres of water per hour.
The first phase of the project which involved the drilling of the water borehole has been completed.
Miyare on Friday launched the construction of the project which will involve the installation of a reservoir tank, construction of water kiosks and distribution of the water in Masakla, Otaro, Maguje, Yimbo, Manga and Kopiyo villages.
Miyare said funds for constructing the project had been sourced from his personal income and friends.
"I got funds from my savings and friends to enable us to undertake this project. We are through with the first phase of drilling and the project is expected to be complete by the end of this year," he said.
The advocate said his objective is to improve residents' lives by providing with water.
The water will be for agricultural and domestic purposes.
"Residents can also use the water for horticulture to improve their income. Water is life," he said.
Area Chief John Omamo told residents to own the project and protect it against vandalism.
He said his office will take punitive legal measures against people who try to vandalise the project.
"Many projects of this type are susceptible to vandalism. Let us own this project because it meant to change our lives," Omamo said.
Area residents expressed optimism that the project will cushion them from water-borne infections.
"We have been travelling long distances in search of water. This project will also save our time spent on looking for water," said Caren Odundo.