County gets Sh1.1b for water project to ease supply crisis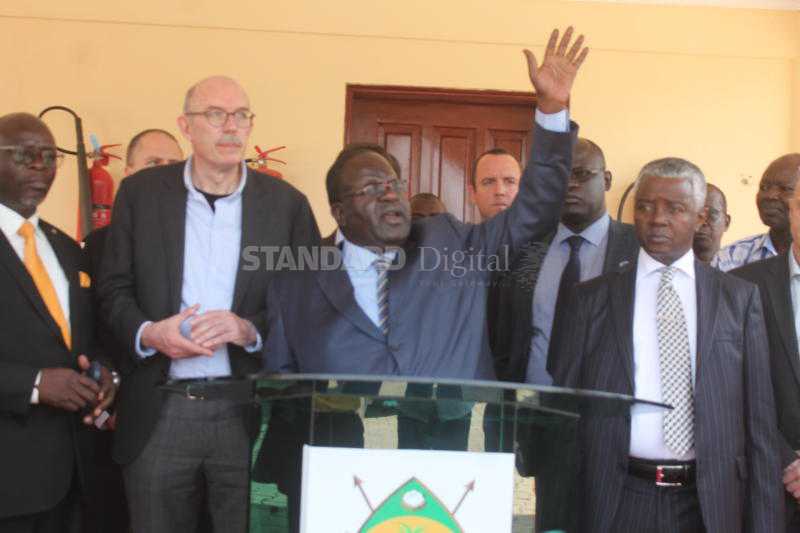 Belgium has given Kenya Sh1.1 billion grant to fund a water project in Homa Bay County to end persistent water shortage in the region.
The project will serve Homa Bay Town and neighbouring sub-counties.
This was revealed yesterday during a meeting between Belgian private investment firm – CMI Industry – Programme Director in Africa Bob Van Der Linden and Homa Bay Governor Cyprian Awiti in the latter's office.
Construction period
Mr Linden said the construction work would take two years.
"This is an important project whose negotiations lasted for two years between the Belgium Government and the Homa Bay County administration," Linden said.
The Belgian official said heavy duty tanks to boost water supply would be erected in the region. This will include sinking two boreholes in Rodi Kopany while new tanks holding up to 5,000 cubic metres of water will be erected at Asego in Homa Bay town.
Governor Awiti, who was accompanied by his deputy Hamilton Orata, said project would help the county government end perennial water shortage in the region.
"This project is going to transform lives of our people by enabling them to get clean and safe water," said Awiti.
The governor pledged to support it during its implementation, saying it will provide numerous job opportunities in the county. He said most of the construction work in the project would be undertaken by local residents.
The governor further explained that the money for the project is a grant from the Belgian government to Homa Bay County through the national government.
"This programme is a grant resulting from a partnership between the Belgian and Kenyan governments.
Lake Victoria South Water Services Board Manager for Rural Water and Sanitation Daniel Oronje said the next phase was implementation since project design was complete.
To fight drought, involve communities
According to the latest information from the Meteorological Department, rainfall will be poorly distributed in April, May and June, and this will have a serious impact on agriculture