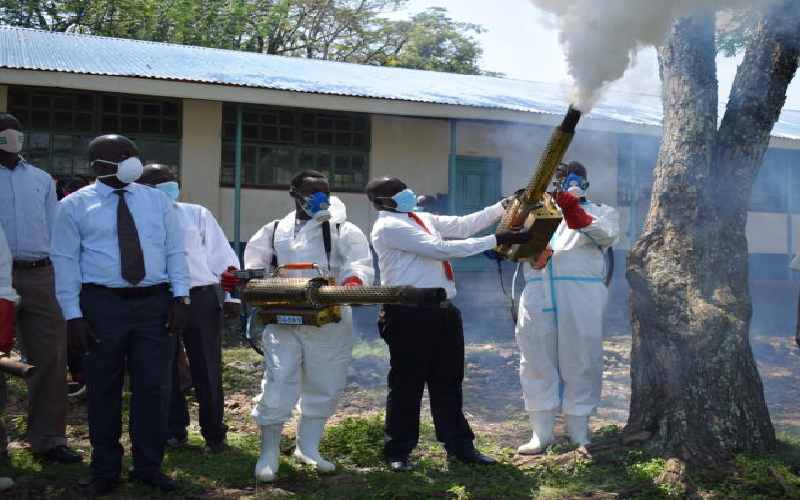 Homa Bay County Government has started a Sh20 million fumigation exercise of some 1243 learning institutions in preparation for the planned reopening of schools.
County director of Preventive and Promotive Health Services Adel Ottoman who was accompanied by Sub County Director of Education Jacob Wanyama and the County Chief Officer for Education Wilfred Awuor launched the exercise yesterday at Homa Bay Primary school.
The fumigation exercise is being undertaken to prevent learners from contracting Covid-19 when schools re-open.
The exercise will be done in 882 primary schools, 331 secondary schools and 30 tertiary institutions. They include both private and public institutions in all eight sub-counties in the area.
Read More
The exercise will take one and a half months and is set to end before the schools are reopened.
"We are undertaking this exercise to protect learners against Covid-19 infections when schools reopen. We want the exercise to end before all learners begin going to school," said Ottoman.
The director warned that his department will not allow any school that has not complied with health protocols to resume learning.
"We will recommend closure of any school that fails to comply with anti-Covid-19 protocol. Let all school managers ensure their schools comply," Ottoman added.
Wanyama said they will ensure implementation of all guidelines required for pupils to prevent Covid-19.
"We are currently making arrangements with schools to ensure they are in good conditions to accommodate learners when schools reopen," Wanyama said.
He said they are going to observe a multi-sectoral approach when pupils open schools.