Kisumu man, 35, goes into hiding after killing and eating hyena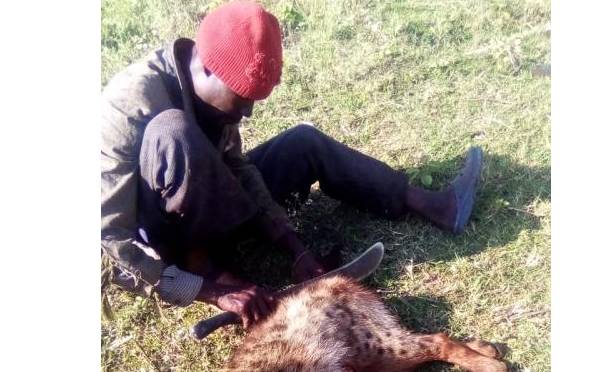 Armed with a machete and a club, he managed to hunt down a troublesome hyena which had been a thorn in the flesh of residents of Kogilo, in Seme Sub County.
But what left residents amazed is that Moses Omondi, commonly known as 'Obote', went ahead and skinned, cooked and feasted on the carcasses of the wild animal shortly after posing for a photo with it.
And when he noticed that the Kenya Wildlife Service officials were tracking him, Obote disappeared, leaving behind the huge chunk of hyena meat, some of it on the roof of his house where he had begun drying it, while some on the ground within the compound.
The animal's skin hanging on a rope behind his house is what raised suspicion that the man could have slaughtered the animal.
His shocked parents who raised the alarm yesterday were trying to come to terms with two realities-how the man managed to face and kill the dreaded animal, and how he chose to skin and feed on it despite the scary appearance of the animal.
"The man is never very approachable, and we could not prevent him from doing whatever he wanted to do with the carcass," said Ochola Hongo, Obote's father.
According to Hongo, the young man has been leaving home very early every morning in search of menial jobs.
And on Monday, he left earlier than usual and headed towards Kombewa slaughterhouse. Here, there is a small stream where the hyenas use as their route to access the village.
"Hyenas are common in the village and have been attacking our livestock. My son said enough is enough," said Hongo.
Unfortunately, Obote came face to face with a flock of the animals which were heading to the village and surged towards him.
With his weapons, Obote scared the animals, which then retreated back to the small river.
As the animals struggled to cross the river, one of them slipped and dropped inside.
Obote pounced on the animal, attacking it with the machete before the animal lost the fight, and dropped dead inside the water.
Obote then carried it out of the water, into a dry ground near his parents' home where he skinned the animal.
He is said to have first eaten the animal's raw liver.
It was at this point that some residents caught up with him, forcefully took away the meat before calling in the Kenya Wildlife Services.
Before these officers could arrive, the residents led by area chief Caleb Okuon took away the carcass, begun to burn it.
Obote reportedly turned round and took away the unburnt parts of the meat and took to his roof to dry them.
"The man has been good, but lately he has been getting into alcohol, however, we do not know if this could be the cause of his actions," said the chief.
"My son is not insane, and I do not understand how he came to do what he was doing. He is a trained mechanic, and very upright," said Hongo.
Stephen Onyango, one of the residents who were among the witnesses said they were shocked to find their friend feasting on the animal's raw liver.
"At first we took it as a joke, but when he went on to begin slicing the carcass and even putting aside for cooking, we sensed something was not right and that is why we raised an alarm for other people to come and help," he said.
The Kenya Wildlife Services has however launched a manhunt for the 35-year-old mechanic who went into hiding after discovering that the authorities were trailing him.
Senior KWS warden Joseph Nyongesa said the remaining carcass was burnt as they launched investigated the matter.
"We have heard of many hyenas in that area, but we have been working with the community to ensure we reduce the human-wildlife conflict," said Nyongesa.
Banned game meat
According to the Wildlife (Conservation and Management) Act, it is illegal to hunt any game animal unless authorised by Kenya Wildlife Service to do so.
"Except as otherwise expressly provided by this Act or the rules, any person who hunts any protected animal; or any game animal otherwise than as the holder of, and in accordance with any conditions attaching to, a game licence authorising him to hunt that animal, shall be guilty of a forfeiture offence, reads the Act.
Sale of any game meat was banned in Kenya in 2004 because of concerns over poaching, forcing game meat outlets to restrict themselves to selling crocodile and ostrich meat whose sale remains open
The poaching concern led to the ban on the sale or import of game meat despite constant lobbying by restaurants.
Since then, visitors expecting to sample game meat of antelopes, gazelles, zebras, wildebeests among other wild animals have had to bear with whetting their appetites with ostrich and crocodile.
Wildlife species that have significantly declined and are critically threatened in Kenya include elephants, rhinos, Grevy Zebra, bongos, lions and cheetahs, among others. Some are hunted in conflict, for game meat and trophies.