Use Sh9.6b Covid-19 cash to improve hospitals, Owino tells Nyanza governors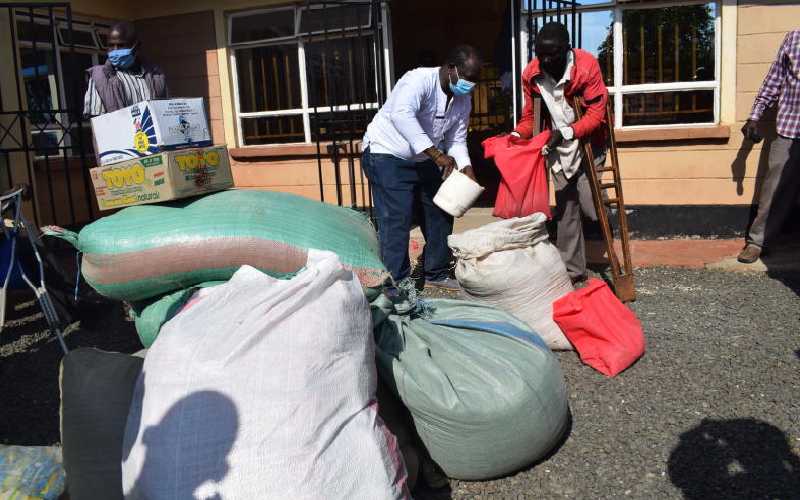 Ndhiwa MP Martin Owino has challenged Nyanza region counties not to use their share of Sh9.6 billion anti-Covid-19 cash in recurrent expenditures.
The cash which includes Sh5billion from the economic stimulus package that was initiated by President Uhuru Kenyatta and another Sh4.6 billion from the Devolution Support Programme from Ministry of Devolution.
Owino has expressed concerns over a tendency by some governors in the region to use such funds in recurrent expenditures.
He said spending such money on recurrent expenditure had let to the poor state of health facilities in the region.
The legislator cited Siaya county which has only 10 isolation beds for Covid-19 patients yet the number of coronavirus patients is on a daily rise.
Speaking at Kobodo trading centre on Monday when he distributed food and non-food items to vulnerable families in his constituency, Owino said many health facilities Nyanza counties are wanting hence the need to channel the money towards the sector.
The MP argued that spending the money on recurrent expenditures such as allowances will make no impact in fighting the virus.
"Many people are suffering in Nyanza and cannot access medical care due to poor infrastructure and lack of essential commodities in most health facilities. Recurrent expenditure will not improve our health facilities," Owino said.
Owino who is a member of the National Assembly Health Committee said the counties should spend the money on development to improve health.
"Let governors improve health facilities and improve roads to make health facilities accessible," he said.
He said the money should be used to ensure health facilities are able to handle Covid-19 cases.
"The rising number of coronavirus infections in the country is worrying. Let all the counties utilise the money to enhance preparedness in handling many patients," the MP added.
Owino said his constituency in Homa Bay county also has poor road networks which make many health facilities inaccessible.
Distributed food
During the function, Owino distributed maize, rice, beans, bread, milk and soap to more than 2,000 people including those with disabilities and the vulnerable.
The items were bought by Ndhiwa Relief Response, taskforce where Owino is a member.
The MP argued that many families that had difficulties in affording basic needs hence they need relief aid.