Fix old bridge or wait for more demos, Ukwala residents warn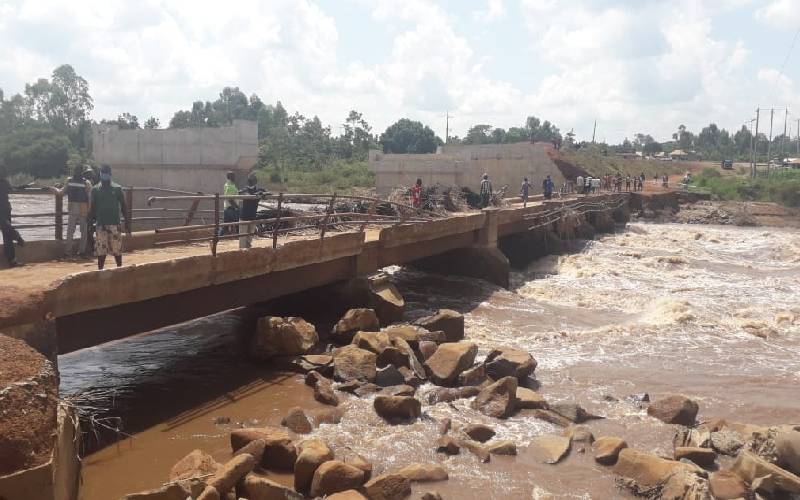 Residents of Ukwala, Ugenya sub county on May 26 held protests over the delayed completion of the new River Nzoia Bridge.
The construction of the new bridge, part of the 28-kilometre Ruambwa-Ukwala- Ugunja highway at cost Sh1.24 billion, has dragged forcing locals to resort to an old bridge.
The residents are stranded after the old bridge they have been using was also washed away due to the ongoing heavy rains in the area.
Led by area MCA Peter Oduor, the residents demanded the immediate repair of the old bridge, which they have been using before.
Oduor said locals are tax compliance hence the need for immediate action from both County and National Government.
"The destruction of this bridge has made residents less productive. The people living in Ukwala and using this bridge are affected because their rights are being infringed on by the leadership that should uphold them," he said.
Three-week ultimatum
Take a quick survey and help us improve our website!
Take a survey
The angry residents have given the National Government a three-week ultimatum to repair the old bridge or face more protests.
They claimed the collapse of the bridge had stopped the movement and social livelihood of residents.
They raised concerns on high transport costs by motorists who have to use alternative routes.
Chrispine Oduor, a local, said motorcycle riders, small scale traders who depend on the bridge now have difficulties going about their normal business as this bridge serves as a link to the larger Ugunja market.
Patrick Okoth, another resident said the collapse of the bridge has seen fare charged to the nearby market in Ugunja soars.
"Vehicles and boda boda guys now charge twice the normal fare due to the distance they are forced to cover to ferry people and goods," he said.
Okoth also said that the cattle markets around Nzoia had largely been affected due to lack of transport.
"In the entire Ugenya sub county, we have only one market, which is Nzoia. The nearby markets are in Bumala which is in Western and Nyadorera in Alego Usonga and raising transport to such places is very frustrating," added Okoth.
Local businesswoman Mary Aoko said most of them are suffering because they are forced to go through Sega town to Ugunja.
She urged both the County and National Government to sort out their problem and save them from commuting long distances to access basic services.
KeNHA notice
The new bridge which is under construction on Ugunja-Ukwala-Ruambwa highway links both Ugunja and Ugenya sub counties.
Last week, Kenya National Highways Authority (KeNHA) released a public notice announcing they had closed the Ugunja to Ukwala to Ruambwa road at Nzoia Bridge.
In the notice, KeNHA Director General Engineer Peter Mundinia said they had closed the road at Nzoia Bridge crossing due to heavy rains.
KeNHA advised the public to use alternative routes such as Siaya to Ruambwa to Ukwala or Ugunja to Siranga to Nzoia.