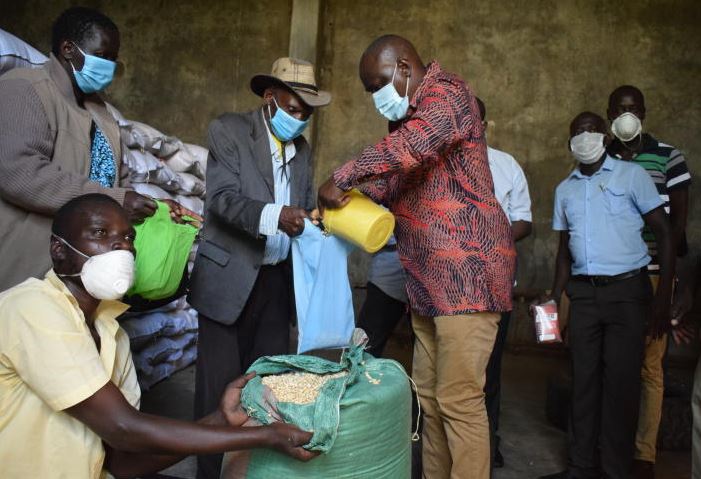 The National Assembly Minority Leader John Mbadi (pictured centre) and security officials in his constituency have put measures in place to prevent the residents from mingling with Tanzanians through Lake Victoria to prevent coronavirus infections.
Suba South constituency borders Tanzania through Lake Victoria. This makes area residents mingle easily with Tanzanians, a situation that puts them at risk of contracting Covid-19.
But Mbadi is collaborating with security officials in the area led by Suba Deputy County Commissioner Joseph Maina to exercise cooperation in deterring mingling between residents and Tanzanians.
The measures encompass coordination between village elders and families in their jurisdiction areas. The village elders monitor people who visit their villages and report to their assistant chiefs.
Read More
Speaking in Magunga town, Mbadi told residents to take personal responsibility in preventing Covid-19.
Such responsibilities include reporting foreigners seen in the area, avoiding gatherings, maintaining social distance and personal hygiene.
"Let us avoid attending funerals of distant relatives. Let funerals be attended by immediate family members because we are preventing coronavirus, a disease whose cure has not been discovered," Mbadi said.
On his part, Mr Maina said they had put in place measures for tracing travel history of anybody who tours the sub county.
"Our village elders are on the ground to trace history of travel for anybody who tours this sub county. This will enable to get hold of foreigners and anybody who comes to this sub county from a risky region," said Maina.
He added that they had sensitized fishermen from the area against mingling with the citizens of Tanzania or Uganda in Lake Victoria. "We are working closely with fishermen and their leaders on how to avoid mingling with foreign nationals in the lake," he said.
On Saturday, two residents of the neighbouring Migori county tested for coronavirus after mingling with Tanzanian nationals.