MP who offered to be caned for defecting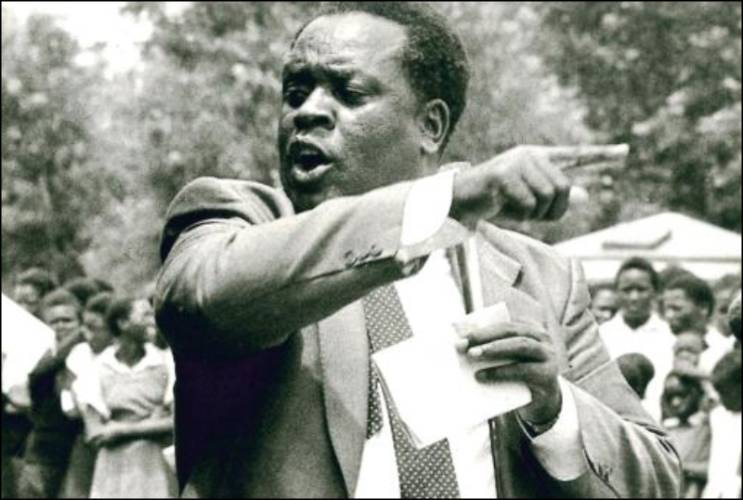 Former Nyatike MP Tobias Ochola Ogur who died last week will go down in history as one of the most humorous politicians.
At the height of his political career that spanned more than three decades, Ogur tickled his colleagues in Parliament with his funny outlook on issues and in debates.
Back at home, he employed his witty character to build a massive support base. While his opponents used money to woo voters, Ogur used his sharp tongue, often leaving even his haters reeling in laughter.
Known for his oversize coats and permanent smile, Ogur asked the constituents to vote for him "On Credit", promising to sort them out once he got to Parliament.
He successfully did this in three elections- 1988, 1992 and 2002. Shortly after being re-elected in 1992 on a Ford Kenya ticket, word went round that Ogur was among the MPs from Luo Nyanza who had been paid to defect to Kanu. The then Ndhiwa MP Tom Obondo was the first to defect and rumours were rife Ogur and his then Rangwe counterpart Ouma Muga were next in queue.
To escape the wrath of his angry constituents, Ogur had to devise quick survival tactics. One hot afternoon as he drove through Migori, agitated youths stopped him and demanded to know his stand.
Cornered, Ogur pulled a good one from his bag of tricks. He came out of the car, like a subdued prey, his hands in the air. "Who am I to abandon Ford Kenya? I offer myself to be caned to prove my innocence. Somebody step forward and cane me if they believe it is true," Ogur said to the shock of the crowd, including this writer.
Like the Biblical hypocrites who ducked when Jesus asked them to throw the first stone to the adulterous woman, everybody scampered. The MP stepped back into his car and left.
When he reached Wath Ong'er shopping center in his constituency, he met another angry crowd and he threw a similar challenge. He left the crowd reeling in laughter and drove to his home. But the crowds were right for he went ahead to defect to Kanu in the run up to the 1997 election. They handed him a befitting gift, a loss with a huge margin to new comer Tom Onyango of NDP. After losing the 1997 election, Ogur was nominated as a councilor to the Migori County Council. He felt bruised and demoted but the humour sustained him.
But Ogur, using his political charm and usual theatrics, elbowed his way back to Parliament in 2002 through the National Rainbow Coalition (Narc) ticket in the wave that swept Kanu out of power after 24 years. In that election, Ogur distributed oranges to voters to counter his opponents who were dishing money during campaigns. He won with a landslide.
"Ogur had a great sense of humour. While his opponents had a lot of money, he moved around the villages with a pick up loaded with oranges. Voters scrambled for the fruits as he spiced them with humorous talks," said Kenneth Ouma, one of his former campaigners
"I have never seen such a witty politician. He was always happy. The only times I saw him visibly angry was on the occasions Kenyan fishermen were arrested by Tanzania and Ugandan authorities while fishing on Lake Victoria. On those days, Ogur would make furious calls to the Provincial Commissioner."
Indeed, Ogur's sense of homour is only comparable to former MPs Phares Oluoch Kanindo, William Odongo Omamo and Onyango Midika who also had a rare gift of the garb.
Besides the humour, the Yugoslavia-educatated economist has been described as a hardworking and a humble politician who never held on to grudges.
His cousin and former PA Jasper Ater says Ogur had a rare combination of humility, love for peace, politics and development.
"He never held a grudge against anyone, even with his opponents. He did a lot for Nyatike when he was an assistant Minister for Health and MP. He opened Nyatike to the world. He brought the first ambulance to Nyatike in 1988," says Ater.
In Parliament, Ogur was a restless, a humorous and an avid debater.
One day in October 2007, Ogur sent his colleagues reeling in laughter when he sought to know why his constituency had been de-listed as a hardship area, denying public servants and teachers special allowances.
Standing on a point of order, he is quoted in the Hansard as saying: "Mr Speaker, Sir. Nyatike was enjoying that privilege of hardship allowance until it was stopped in 1992 without any notice. It was as if we had become rich. We became poorer. We experience floods and drought all the time. They withdrew that privilege without telling us anything. Could the Assistant Minister reinstate the hardship allowance to Nyatike immediately, now that I have reminded him?"
He once ran into trouble for referring to a group of MPs as "those maasais walking out of the chamber".
"We will forever be indebted to him as much as he will eternally remain an icon of our great constituency. We will remain supportive to the family during this time of sorrow," Nyatike MP Tom Odege eulogised him.