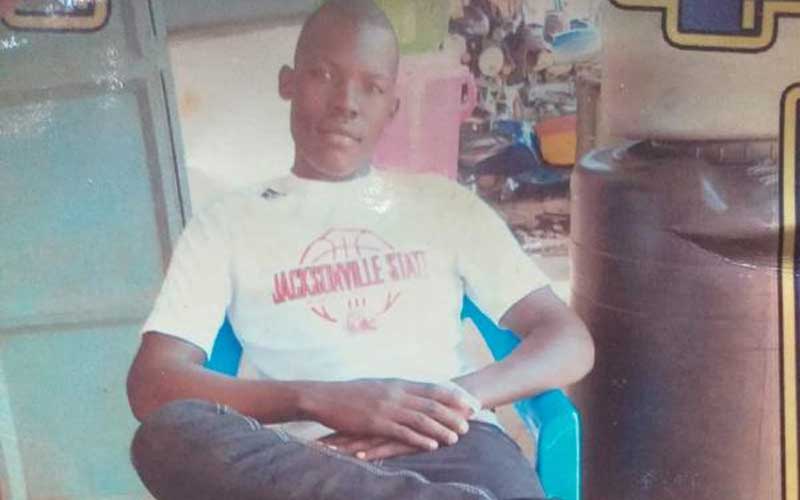 A family in Ahero is mourning the death of their kin shot dead by police. Mark Ochieng
(pictured)
died on the spot after police shot him in the chest as they shielded a motorist who had knocked down a member of his family. According to witnesses, Kevin Sumba, 17, had been hit by a car along Ahero-Kisumu road at around 5pm yesterday.
SEE ALSO: Man kills daughter after boyfriend's sleepover
Bystanders then stopped the motorist from leaving the scene, demanding she takes the boy to hospital and threatening to torch her car. Police arrived at the scene and tried to disperse the crowd. In the process, one of the police officers is said to have shot Ochieng, accusing him of inciting the crowd. The officers then loaded Ochieng's body into their car before speeding off towards Ahero Police Station together with the vehicle which had caused the accident.
Stormed station
Residents then stormed the station, forcing the officers to move Ochieng's body to Jaramogi Oginga Odinga Teaching and Referral Hospital Mortuary.
SEE ALSO: Man held for killing daughter, 15, for spending night out
Ochieng's relatives accused police of trying to silence the family which was demanding for justice. His brother, Victor Odhiambo, claimed that police officers at the scene of the accident threatened those who protested Ochieng's shooting. Odhiambo said Ochieng had been called by someone who had witnessed the accident and found their injured kin still lying by the roadside. "He rushed to find means to take him to hospital only to be shot by police officer who arrived at the scene," said Odhiambo. He said there were two traffic police officers at the scene. Ochieng's wife, Sheila Achieng, said her husband had left home in search of an evening meal for the family when he was shot.
SEE ALSO: Our women should be protected by all, not clobbered like snakes
"I am yet to come to terms with his death. I am hoping that justice will prevail," said Achieng. The mother of two said her husband had no criminal record, but worked hard to fend for his young family. She said he was the family's bread winner. Kisumu County Police Commander Ranson Lolmodoni confirmed the shooting and said that an inquiry has been opened to establish circumstances under which Ochieng was shot. Lolmodoni said a mob was about to torch the car involved in the accident and tried to grab a gun from the police officers prompting the shooting. "When the mob tried to snatch the firearm from the officer, a commotion ensued leading to the man being shot," he said. He said the police have launched investigations into the two incidents. The driver involved in the accident is set to be arraigned in court today while boy who was hit is said to have been treated at the Ahero county hospital and discharged yesterday.