Homa Bay county music festival finishes on high note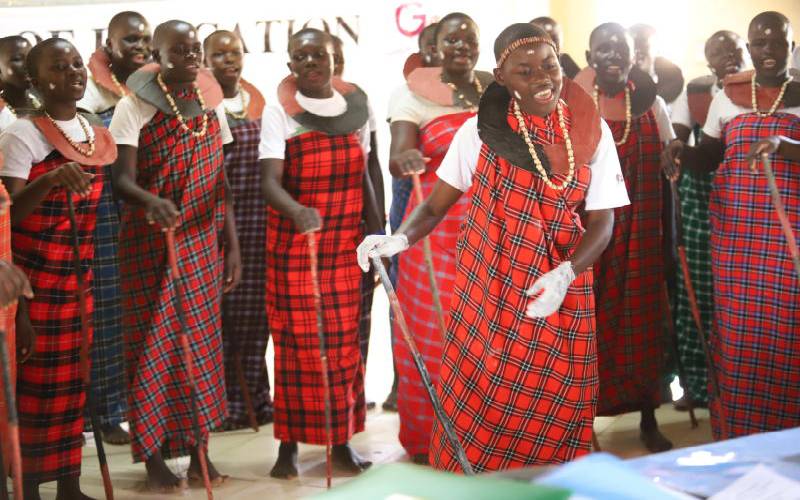 The Homa Bay County Music Festival wrapped up at the weekend with captivating performances by learners from various institutions.
The six-day event at Orero Boys in Rangwe brought together learners from early childhood development centres, primary and secondary schools in the county.
County Music Committee chairperson Beldine Ochieng' told participants the competition was all about friendly rivalry and that there should be no bitterness from the defeated.
"I wish to remind our participants that all music competitors are comrades who are pacing one another towards perfection and not rivalry," she said as she officially closed the festival.
Little-known Kosele Secondary School from Rachuonyo South entertained listeners with a Marakwet folk song "Engeo".
Draped in traditional regalia and sticks depicting joyous native women, they danced to ululation from the audience, forcing the adjudicators to signal for silence during the performance.
They were followed by St Peter's Disi Secondary School from Ndhiwa sub-county with a Swahili choral verse "Mwiba".
The packed hall went mute as the boys stood waiting for a signal from the three adjudicators before making their introductions.
Dire consequences
"Mwiba" was an anti-corruption choral verse that warned culprits of dire consequences of their actions on development.
"Wamejifanya hasidi, wasio hata na fikira…" was the description the energetic students gave the corrupt. The verse narrated how patients died in hospitals because of corruption due to poor working conditions and lack of drugs. In schools, they said learners were offered sub-par education, resulting in the ruin of innocent children's futures.
As they recited more phrases, there was silence and attentiveness from the audience, with the grim facial expressions of the students and guests telling that they could feel the effects of corruption on their lives.
As they bowed their heads and walked out in a single file, the mood in the hall was somber.
Kikubi", which explored the temptation, betrayal and crucifixion of Jesus.
The percussion instruments and vigorous dance moves that accompanied the song sang in Dholuo helped to lift the spirits of the audience. The swaying small white wooden crosses moved in rhythm and helped depict a Legio Maria worship session.
Talented soloist
The talented soloist moved from one end of the stage to the other, capturing everybody's attention.
The qualifying choirs, which explored various thematic items ranging from good governance to sanitation, will meet at the regional festival scheduled to take place in Nyamira County.
Notable performances were by God Bura Secondary, Samanga Lutheran, Wiga Secondary and Mawego Girls schools.