Miners chip away at Emanga Hill as leaders slumber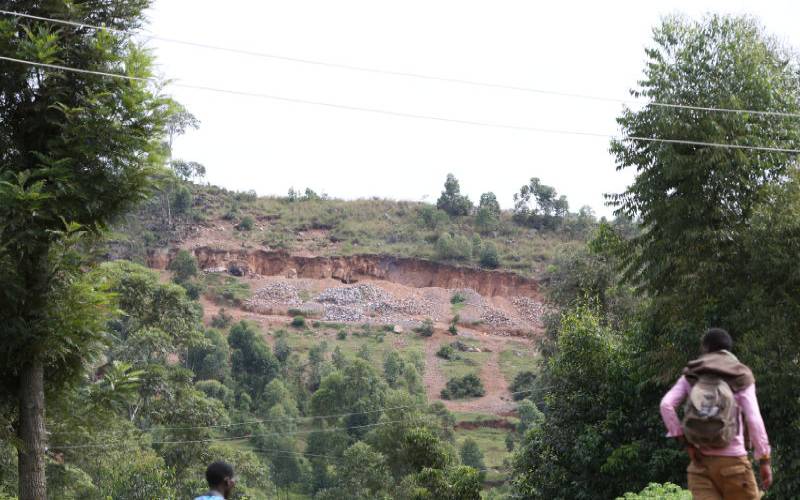 The county government has said it will allocate funds to protect the once famous Emanga Hills from further decimation by residents.
The hills, which are situated on the boundary of Kisii and Nyamira counties, are home to centuries-old caves that have been classified as a cultural heritage for the Abagusii Community.
But in recent years, the county and national governments have maintained a studious silence as residents slowly encroached on the hills to mine ballast, stones and sand.
Most visible
The building materials are later sold to real estate developers and road contractors.
The encroachment and destruction is most visible to those driving along the main Kisii-Nyamira road where sharp-edged terraces dot the physical feature as stone workers go about their daily business unfazed.
A tonne of ballast at the site goes for Sh1,200 while it costs between Sh3,000 and Sh5,000 to load a tipper with stones.
A resident, Peter Omwenga, told The Standard that the government did not appear to be moved by the out-of-control mining activities at the site.
"Our ancestors first settled here purposely to hide under the huge rocks. From the top of the ridge they were able to see the enemy before they attacked. The current generation doesn't find sense in such an explanation," said Mr Omwenga.
With the once vibrant ecosystem under threat, the snakes that used to shelter under the huge rocks have moved from the hills to nearby homesteads where they have found refuge in grass-thatched roofs.
Kisii Culture, Youths, Sports and Social Services Executive Duke Mainga said his department had already prepared a proposal to have all heritage sites in the county protected.
Mr Mainga's Nyamira counterpart, Benard Osumo, who is serving in an acting capacity, said the department of Environment and Mining would look into the matter.
"We need to have a sober debate and keenly look into the matter with the aim of restoring order," said Mr Osumo.
Numerous myths
Before residents started decimating the hill, people frequently trekked to the top where a cross was erected more than 60 years ago. The hikers scaled the hills to pray and seek spiritual nourishment in a place that was revered and the source of numerous myths and legends.
Kisii County Director of Culture Obino Nyambane said his department was in the process of preparing a policy to safeguard the heritage site.
"It is true there is encroachment but the people living around the area need civic education on why we need to protect that area.
"We have the passion to safeguard our cultural heritage. The heart of any community is rooted in its specific culture, which ought to be protected at all costs," said Mr Nyambane.