Aspirants now troop to neglected vote-rich Lake Victoria islands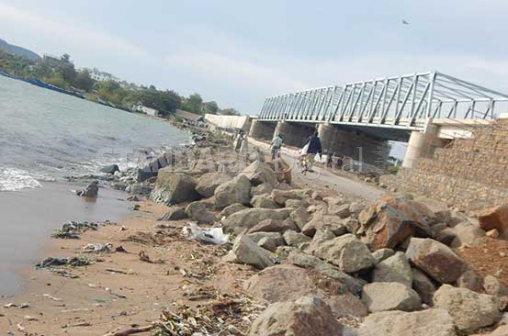 Voters living on Lake Victoria islands have for long been a forgotten people.
They rarely see Government officials and politicians since they tend to make technical appearances on certain occasions.
But not anymore. During the campaign period, politicians have been trooping to the islands in Homa Bay, Migori and Siaya counties to seek swing votes after it became known that many of the islanders registered as voters.
Migori has the football pitch-sized Migingo Island with a population of more than 1,000. Migingo knows no peace because of the dispute between Kenya and Uganda over its ownership.
Siaya has Mageta with 5,000 people, Ndenda with 4,000, Oyamo with 4,600 and Sigu with 300, according to the Kenya National Bureau of Statistics.
Homa Bay has the biggest and the highest number of islands -- Rusinga with a population of 25,000, Mfangano with about 16,000 people and smaller ones; Ringiti, Remba and Sukru.
According to Bondo Constituency Elections Coordinator Moses Daula, the five islands in the constituency had 3,677 registered voters at at December last year.
Mr Daula could not immediately give the figures after the mass voter registration but said "the number has significantly increased because we mobilised the islanders to register."
He said Mageta had the highest number of registered voters at 2,191.
In Mbita, Homa Bay County, IEBC records show Rusinga and Mfangano islands had 13,469 registered voters before the mass voter registration.
Hitherto shunned because of logistics and security risks involved, the islands are now rich hunting grounds.
During the mass voter registration, aspirants ferried the islanders in boats to register on the mainland. Now the aspirants are doing everything possible to convince them to vote.
Homa Bay Governor Cyprian Awiti and his main opponent Sammy Wakiaga have been sailing to the islands and promising development projects.
Awiti has promised Mfangano islanders a juice-making factory, roads and schools, while Wakiaga has introduced ferry services between Mbita, Rusinga and Mfangano. This has reduced deaths because the islanders used to rely on dug-out canoes which are prone to accidents.
Last year, Awiti distributed life jackets, cool boxes and security boats to residents of Rusinga, Mfanfano, Remba and Ringiti.
Mbita MP Millie Odhiambo visits the islands almost every week. Last year, she used the National Government Constituency Development Fund (CDF) to build the first school on Sukru Island and saved pupils from sailing to the mainland daily to attend classes.
"We want the islanders to feel like they are also part of Kenya. We have provided medical and education facilities," says Millie.
Martin Ochieng, a beach leader at Mbita says politicians are now giving more attention to the islands because of swing votes.
"Many of the islanders registered as voters and this is why the politicians are seducing them with promises," Ochieng says.
Since January, Rarieda MP Nicholas Gumbo and former Permanent Secretary Carey Orege, both of whom are in the Siaya governor's race, have visited Mageta, Ndeda and Oyamo islands.
According to political analyst Salim Odeny, the islands are important for those eyeing the Governor, Senate and parliamentary seats, but not for Members of County Assembly.
Poor roads, insecurity, poor sanitation and unequal distribution of resources are among key issues in the islanders' list.
Fishermen want the leaders to find a lasting solution to insecurity. Through the Beach Management Units network, they say fishing is the only source of livelihood for the community and should be accorded better treatment.
"We call upon our leaders to address the insecurity issue. When fishermen will be judging how the elected leaders have performed, one of the main scores will be how they handled our issues and we shall judge them very harshly," said Julius Odembo, Sika Beach Management Unit Chairman.
Residents also want the issue of human-wildlife conflict addressed.
People have been killed and crops damaged by wild animals, mostly hippos, and farmers say they do not receive any compensation from the Kenya Wildlife Service (KWS).
Even though they were detention camps during the colonial era, Mageta, Ndeda and Oyamo islands still lack some of the basic facilities such as schools and hospitals.
Last week, Orege, who toured Mageta, said the concerns raised by the islanders are genuine.
"It is evident that those living on the islands have been forgotten both by the national and county governments. This is why they must elect a leader who will ensure all their issues are addressed because they pay taxes and need services like the rest of Kenyans," Orege said.
He appeared to counter Gumbo, who toured the island last month and pledged to tackle famine through irrigation and resolve health issues if elected governor.
Nominated MP Oburu Oginga, who wants to contest the Bondo parliamentary seat is the latest aspirant to mount a quiet but elaborate campaign in the region.
Last weekend, he and Siaya Deputy Governor Ouma Onyango visited Mageta Island. They also visited Sika, Kuoyo and Mahanga beaches where they held rallies and promised that insecurity issues would be addressed.
"Insecurity is a big concern to our people and we can assure you this will be resolved once and for all. We will construct another secondary school and a tertiary institution in the island to ensure those living there also get access to quality education," Oburu said.
Onyango, who was drumming up support for Rasanga, also promised that the county Government would ensure that the island gets a good road network.
Mageta, the largest of the islands, was used as detention camp during the colonial times but has been neglected, and the health facilities and and schools are not enough for the 15000-odd residents.
Bondo MP Gideon Ochanda says the island has great untapped potential, but lacks basic infrastructure that would turn it around.
"It expensive to invest on the island. It imports everything. It costs the Constituency Development Fund (CDF) about Sh1 million to build a classroom there while on mainland it costs Sh600,000," Ochanda says.
"Sanitation here is the biggest challenge as the place is rocky and it is difficult to sink pit latrines. At least we pump water from the lake, treat it and distribute to locals but that is not enough."