KDF retrieve two bodies from collapsed Kisii building bringing death toll to 9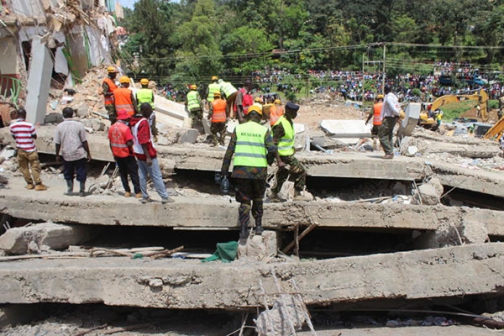 KISII: The Kenya Defence Forces special team working on a rescue mission on the collapsed Kisii building have retrieved two bodies from rubble.
This brings the death toll to nine fatalities as the rescue mission enters the third day.
The first body was retrieved at around 2am on Saturday and the second one at 7.30am.
All the bodies have been identified as male.
The rescue mission is being led by Lt Joseph Martim from KDF and Pius Masai from the National Disaster Management Unit (NDMU).
Masai says he will brief the media later on.
On Saturday Masai said that the operation was likely to take the rescue team at least three days.
The 30 KDF officers have been working at the site 20 hours.
Kisii County Administration Police Commander Mohamed Kutsola says that they have deployed enough security at the scene.
"We have not had any injury among the rescue officers and we expect the public to keep off from the scene. On the first day we had a major challenge in controlling the crowd," says Kutsola.