Horror crash claims 18 on school trip in Kisii County, Kenya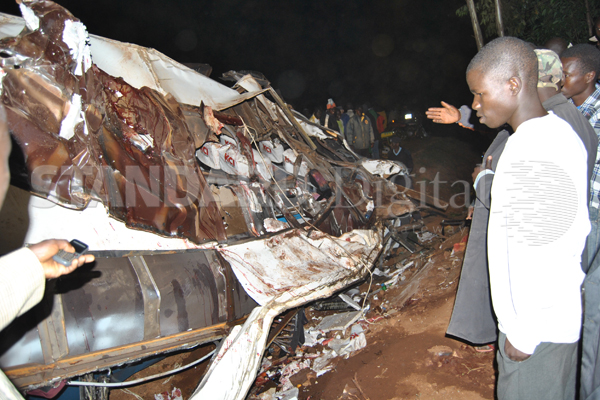 Horror crash claims 18 on school trip
By KENAN MIRUKA and ERIC ABUGA
KISII; KENYA: Twelve students, two teachers and a school bus driver perished in a grisly accident when the bus they were travelling in was overturned at a sharp bend along the Itumbe-Nyamache road in Kisii County on Wednesday evening.
An unknown number of other students and teachers were seriously injured in the 6.30pm accident at Nyambunde in Sameta District.
Unconfirmed reports indicate that the 54-seater bus was reportedly carrying about 60 students. According to an eye witnesses, the bus lost control, and rolled several times.
The students and teachers were on their way to Nyachogochogo Secondary, in Nyamache District for second term games, which are scheduled to start on Thursday.
The students are drawn from five schools in Marani District were on board a bus belonging to Rioma Secondary School when the accident occurred at Nyambunde Shopping centre.
The accident occurred last night a few minutes past 7pm, along Igare-Itumbe road in Kisii County.
Kisii Level Five Medical Superintendent Geoffrey Otomu said ten died at the scene, while eight others died on arrival at hospital.
Dr Otomu, said the hospital received over 40 causalities and some died on arrival at the facility. Some of the victims are in critical condition.
He said they were able to contain the situation, despite the fact that most of the medics had gone home in the evening.
The driver died on the spot while a woman ferrying water from a nearby stream was seriously injured by the speeding bus. Well-wishers led by priests from Nyamagwa Parish helped transport the injured to hospital.
Death toll
The injured were rushed to Kisii Level Five Hospital and other facilities in Kisii Town in critical condition. Mr Stanley Nyairo, a Red Cross at the hospital confirmed the death toll.
A shocked Kisii County Governor James Ongwae and his deputy Joash Maangi visited the scene and condoled families of the deceased.
Gucha Traffic Base commander inspector Charles Odenyo said six bodies were ferried from the scene to the mortuary.
Kisii Central Police station Traffic Base Commandant James Ekwenyi told The Standard the accident was fatal but would not immediately give the exact number of the dead. "The road has sharp bends and is currently under repair. This would have made the driver lose control," he said.
LSK wants Ahmednassir replaced at JSC
The Law Society of Kenya has sought direction from the Chief Justice Dr Willy Mutunga on when the term of its nominee lawyer Abdullahi Ahmednassir expires so that he can be replaced.