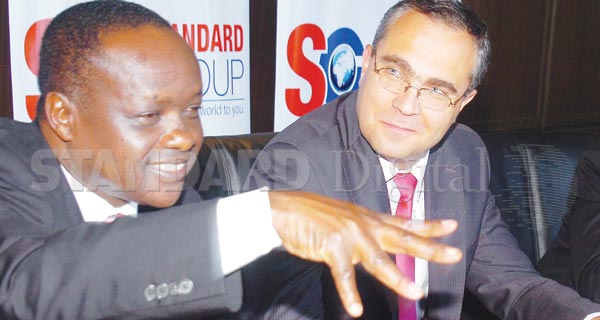 Slovakia's ambassador to Kenya Michal Mlynar (R) with The Standard Group CEO Sam Shollei. (Photo:Moses Omusula/Standard)
By Emmanuel Were
Nairobi, Kenya: The Slovakian government will put up a plastic waste recycling plant in Kisumu in a move aimed at strengthening trade ties with Kenya.
Ambassador Michal Mlynar of Slovakia said the plant would be a joint venture between the two governments, with Kenya expected to provide land and labour.
The project is expected to employ about 2,000 Kenyans both directly and indirectly.
The by-products from the factory will include fuel and electricity.
Read More
"We are ready to share our experience in the transformation, integration and economic reforms with Kenya," said Dr Mlynar.
He was speaking when he paid Standard Group CEO Sam Shollei a courtesy call Thursday. Also present was the Group Editorial Director Benard Nderitu.
Dr Mlynar said his government would also support tarmacking of 55km of the road network in Migori County.
Support reforms
The central European state has also offered to support Kenya in the devolution process as well as in judicial and police reforms.
Relations between the two nations has continued to grow over the last 17 years, with a number of Slovak NGOs and academic institutions operating in Kenya.
Slovakia is considered as an emerging donor providing trade opportunities and support to emerging countries like Kenya.
"We are privileged that Slovakia can share with us their experiences to help us grow our economy," said Mr Shollei.
Slovakia is one of the fastest growing economies in Europe recording 3.6 per cent GDP growth in 2012.
It is also one of the largest car manufacturers per person, and hosts motor companies such as Kia, Volkswagen and Peugeot. Slovakia has a population of 5.5 million people, eight times smaller than that of Kenya.