12 soldiers injured in Somalia border town clashes treated in Mandera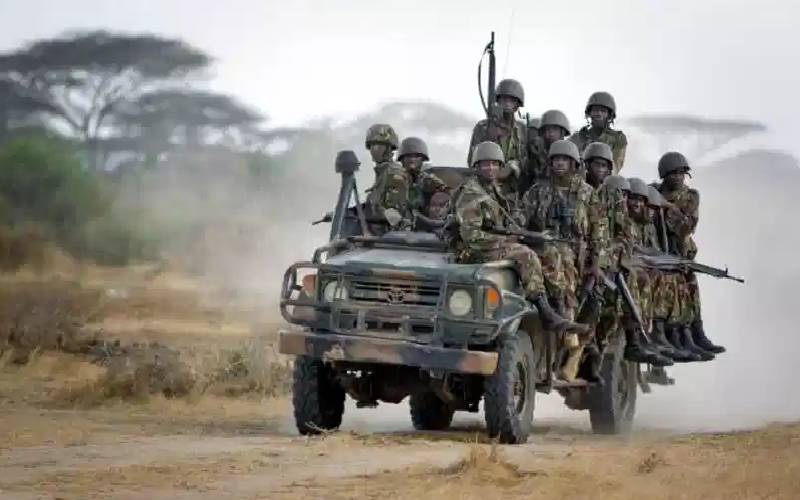 Twelve more injured soldiers from one of the factions fighting in Bula Hawa, Somalia, were taken to Mandera County Referral Hospital as tension gripped the border town.
Governor Ali Roba said nine Kenyan civilians caught up in the clashes are being treated at the hospital.
The area remained tense as sporadic gunfire could be heard in Mandera town while the mobile network has been paralysed since Sunday.
Somalia Federal Government forces and their Jubbaland counterparts clashed on Monday. A mother reportedly lost five children after explosives hit their home.
In March last year, similar clashes occurred and forces under Abdirashid Hassan Abdinur alias Abdirashid Janan were uprooted from Bula Hawa and have since been in Kenya. Locals now fear that the recent fighting could spill to the border town of Mandera.
Sources told The Standard that locals have started moving towards Mandera town.
Residents of Bula Hawa have also fled towards Kenya.
"We ask the Kenya government to intervene and restore peace and also help in the neighbouring country, because we are affected by what is happening in Bula Hawa," Mohamed Ahmed, a Mandera resident said.
He warned that Al Shabaab might take advantage of the situation and strike.
In the recent past, the terrorists have increased attacks along the border. The governor said that the militants have taken control of 50 per cent of the region.
Trouble has been brewing ever since Jubbaland security minister Abdirashid Janan sought protection in Mandera with Somalia accusing Kenya of interfering in its internal matters.
Somalia President Mohamed Abdullahi alias Farmajo's administration has since cut ties with Nairobi.
Abdirashid Jana is wanted by Moqadishu after escaping detention in August 2019. He was accused of killing civilians and obstruction of humanitarian aid.