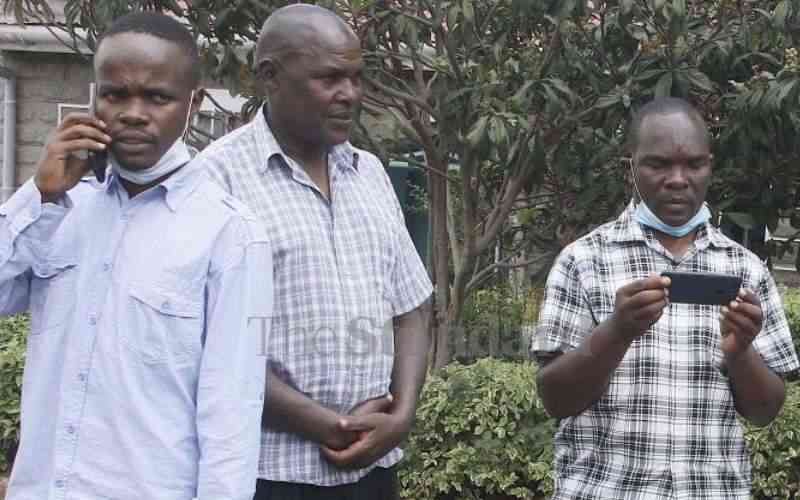 Police in Lari, Kiambu County, are investigating a case where four bodies were found in Ngubi Forest along the Nairobi-Maai Mahiu road at the weekend.
The mutilated bodies of Franklin Obegi, Moses Nyachae, Elijah Omeka, Fred Obare were found on Sunday morning by members of the public who then informed the police.
It emerged that an online cryptocurrency business deal that may have gone sour is what could have led to the gruesome murder of the four men.
Kasarani OCPD Peter Mwanzo said they got a report from family members on Tuesday last week that three of their relatives were missing from Ruiru.
"Since it was not within our jurisdiction, my officers referred the case to Ruiru. On Friday, we got a report that the fourth man, who lives in Sunton, Kasarani, also went missing few days earlier," said Mwanzo.
"We investigated and found that the three who went missing earlier had a relationship with the fourth. Later, we heard they had been murdered."
He said they are currently investigating to know what kind of business they were involved in and who killed them.
He said they are working together with Ruiru and Kijabe police stations because the incidents happened in three sub-counties.
"We discovered that they were doing online writing and cryptocurrency business, which also involved transfer of money," said Mwanzo.
He said sometimes this year, they were informed that one of the four was arrested, but he reached an agreement with the complainant to resolve the issue.
According to the police, the four could have been murdered elsewhere and their bodies dumped in the forest.
Lari OCPD Adamson Furaha said the bodies looked fresh and bore strangulation marks around the necks and injures on their private parts.
At city mortuary, the teary parents and siblings of Obegi, Nyachae and Omeka turned up to identify the bodies of their kin.
Boaz Nyakwara, Nyachae's brother, said the late was the last born in a family of seven siblings from Keroka in Nyamira County.
"Moses was a student at Kenyatta University, Ruiru Campus, and we have been taking care of all his expenses, including his upkeep in the university. I even sent him some money before Sunday," he said.
"We were shocked to learn that he was among those killed while we were just waiting for his graduation."
Nyakwara said his brother, who was 25 years old, had several cuts in the neck and hands and his eyes were gorged out.
"We are just asking the government to tell us who killed him and why. We had high hopes in him and are really disturbed as a family by his death," he said.
Obegi's father Evans Mose travelled from Nyamira to Nairobi to know about his second born son whom he last saw in April.
"He was a good and clever son. He told me he used to sell online tickets and earned commission but I'm so shocked to hear he is no more. When I saw his body, it had been eaten by animals," he said.
Mose said his son dropped out of Multimedia University in his second year.
The police are now worried by the trend of dumping bodies in Ngubi Forest. Furaha said a week hardly passes without them collecting a body.
"It is a worrying trend here, if we don't pick one body in a week we pick two inasmuch as there are days we do not get reports of this dumping," he said.
Furaha said police have intensified patrol in the area although they do not have enough manpower to man the whole area owing to its vastness.