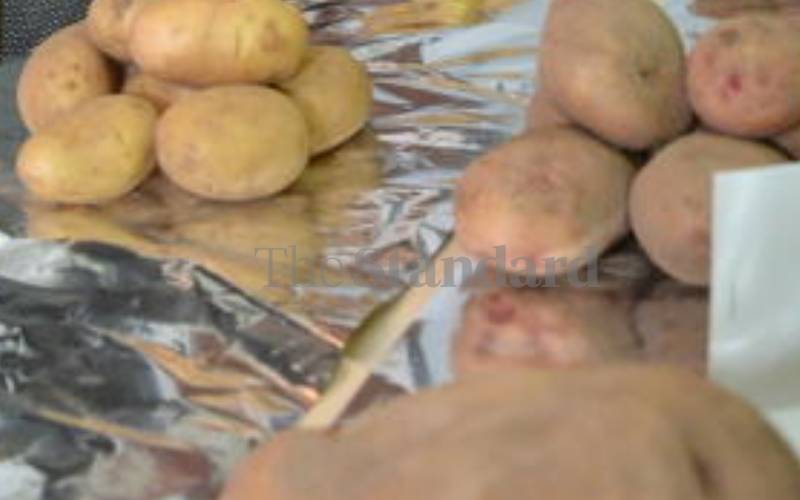 The International Centre of Insect Physiology and Ecology (ICIPE) has developed a technology to deal with the invasive and highly destructive potato cyst nematode (PCN) pest.
The organic technology developed from banana plant waste material will address the high losses incurred by potato farmers every year with production set to rise by five times. According to ICIPE, the strategy provides a protective barrier for the plants against damage by deadly pests.
According to one of the researchers Ms Juliet Ochola, the new technology referred to as 'wrap and plant' involves enclosing potato seeds in a thick absorbent paper made from the banana plant fibre before planting them.
"This strategy provides a protective barrier for the plants against damage by potato cyst nematodes," she said.
Initially, the study aimed to understand whether the 'wrap and plant' technology could help to improve the delivery and effectiveness of nematicides.
The nematicides are the chemical agents that are used to control parasitic worms that damage crops, such as nematodes.
"We established that when loaded with ultra-low dosages of nematicides, the banana paper enables the chemicals to be released in a slow and sustained manner and in very low but effective concentrations," she said.
She added that the paper also facilitated the nematicides to be conveyed to the root zone of the potato plants thus preventing contamination to non-target areas and organisms.
On his part, Prof Baldwyn Torto, also a researcher at ICIPE noted that even without the nematicides, the 'wrap and plant' technology protected potatoes from PCN damage.
"The banana-fibre characteristics make the 'wrap and plant' paper dense, rigid and sturdy, such that it remains intact in the soil while also allowing the plant's roots to germinate and thrive," he said.
First detected in Kenya in 2015, the PCN pest has now widely spread across major potato growing regions in the country, Rwanda and Uganda.
According to Prof Danny Coyne, the current study had proven that the 'wrap and plant' technology whether containing nematicides or not, could increase potato yield by up to five times.
"Our estimates show that PCNs are causing potato production declines of more than 60 per cent, with projections indicating an even worse scenario," he said.
He added that the new technology was a promising boost for food and nutrition security as it would help to safeguard the production of potatoes, East Africa's second most important staple crop.